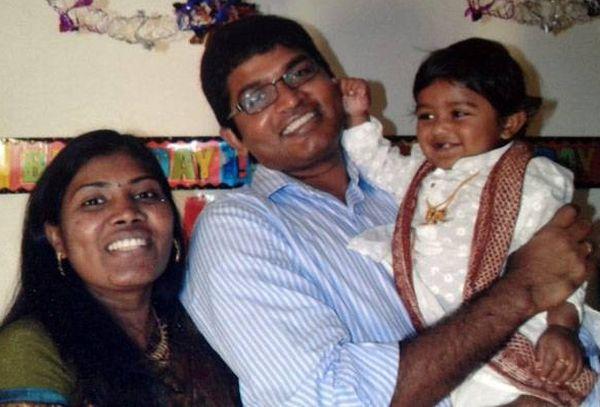 A female Indian software professional and her seven-year-old son were murdered in the United States, the deceased woman's family has alleged.
The Andhra Pradesh-based family said the 40-year-old N Sasikala and her son, Anish Sai, were found dead at their New Jersey home.
The bodies were discovered by N Hanumantha Rao, Sasikala's husband who is also a software professional, on Thursday evening after he returned from work.
The couple had been living in the US for nine years and Sasikala used to work from home. According to reports, both the woman and her son were found strangled.
Andhra Pradesh Chief Minister N Chandrababu Naidu reacted to the incident and expressed his condolences to the family members.
Members in both Houses of Parliament also expressed concern over the killing and and demanded that the matter should be taken up by the prime minister with the American president.
Raising the issue during the Zero Hour in Rajya Sabha, Congress member T Subbarami Reddy said the wife and the son of a software engineer were "brutally killed" on Thursday night.
"It is a serious matter. This is very dangerous. Just two weeks back, two Indians were killed and now two more people have been killed. Prime Minister Narendra Modi must take (it) up with the President of America," Reddy said.
Deputy Chairman P J Kurien too expressed shock over the incident and said the matter should be taken up at the highest level.
He also asked Minister of State for Parliamentary Affairs Mukhtar Abbas Naqvi to convey the incident to the external affairs minister.
In the Lok Sabha, Y V Subba Reddy of YSR Congress Party also raised the issue and asked the government to take a "very strong stand" in protecting Indians in the US.
This is the latest in a series of incidents involving Indian IT professionals. Aeronautical engineer from Telangana, Srinivas Kuchibhotla, 32, was killed when a US Navy veteran, Adam W Purinton, shot him in Kansas on February 23. The Navy veteran also shot Kuchibhotla's colleague who was critically injured.
Image: N Sasikala, 40, and her son, Anish Sai were found strangled in their home in New Jersey, US.
-- With inputs from PTI