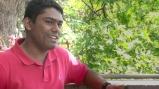 An 18-year-old Indian-American has become the youngest graduate topper of the prestigious University of California in more than a century.
Kolkata-born Ritankar Das has been named as the University Medalist, the prize which is given to the year's top graduating senior.
Das has taken just three years to complete his studies with a double major in bioengineering and chemical biology and a minor in creative writing from the University of California, Berkeley.
He is the first student from the College of Chemistry in 58 years, and the first ever from the department of bioengineering, to earn the honour, which includes a $2,500 scholarship.
"In my 30 years at Berkeley, I cannot think of a single undergraduate student who would match Ritankar's accomplishments, his range of activities and projects that he initiated and currently leads, and his academic excellence," wrote Marcin Majda, professor and undergraduate dean in the College of Chemistry, in a recommendation letter submitted to the prize committee.
On campus, he has served as an academic senator, helping manage a $1.7 billion operating budget and has taught as a graduate student instructor in the chemistry, biology, and African-American Studies departments.
Das started doing research at age 13 at University of Wisconsin, Milwaukee.
Since then, he has continued energy-related research projects at British-Petroleum funded EBI Institute, Berkeley Center for Green Chemistry, US Department of Energy, and Taiwan's Academia Sinica as a Cal Energy Corps recipient.
He has presented his results across three continents, and has received recognition from the American Chemical Society, American Physical Society, and the National Science Foundation.
At this young age, he is the founder and chairman of 'See Your Future', a non-profit organisation that uses digital learning techniques such as YouTube visual demonstrations and Skype tutoring to encourage disadvantaged students to pursue STEM careers.
Outside of science, he is a published poet who has taught several courses on poetry, hosted slams and judged competitions, such as the Bay Area Poet Laureate competition, organised by Mayors Jean Quan and Edwin Lee.
He is the author of the book Silent Moon and his poetic work has appeared in several anthologies.
Fluent in Bengali and Hindi, Das will head to Oxford University to pursue a master's degree in biomedical engineering with a fully funded Whitaker Fellowship.
He will then continue his studies at the Massachusetts Institute of Technology, where he has been admitted to the chemistry Ph D programme.
In an interview to the University's news blog, Das credited much of his success to dedicated parents and teachers who propelled him forward.
"I had parents and teachers who invested in my education early on," Das said.
"Without that help, I don't think I would have succeeded through the education system. I think a lot of students deserve that opportunity and don't always get it," he added.
"What impressed the committee most about Ritankar Das, in my opinion, is his clearly articulated and concretely implemented social vision," said Venkat Anantharam, chair of the UC Berkeley Committee on Prizes.
"That vision is exemplified by his leadership role as founder and chairman of the See Your Future non-profit. His passion to make a difference to the community demonstrates the kind of engaged citizenship that is the ideal outcome of a well-rounded education," he said.