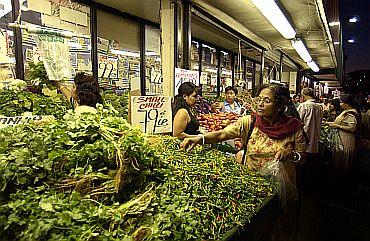 The many Indian grocery stores in the US are about more than familiar ingredients; they are a place to connect with the community, finds Jane Varner Malhotra
As I munch a favourite sweet-and-sour Indian snack mix, I recall enjoying it for the first time in the 1990s. My husband's mother arrived from overseas and brought half a dozen bags for him. He was overjoyed. She nodded knowingly -- his American wife could never have guessed that this was the missing ingredient in a happy household's kitchen cupboard.
And, of course, some ground-roasted cumin, garam masala, good tea and a dozen other food items that I found intriguing. After one spoonful of the snack mix, I understood why its arrival meant celebration.
These days, one need not wait for a friend or family member to arrive from India with a suitcase full of savouries. South Asian grocery stores are located throughout the United States.
High concentrations in California, Michigan, Texas and New Jersey reflect the density of the Indian populations there. Most mid-size towns have at least one Indian shop, often functioning not only as a place to pick up grains and lentils, but to connect with the local South Asian community.
When Peeyush Jain and his parents moved from India to Iowa in 1968, he found, "The closest Indian store was in Chicago, a four-hour drive away… If you were going to Chicago you'd take orders from the 20 other Indian families."
Now, Jain, who lives outside San Jose, California, has half a dozen, well-stocked Indian markets within eight kilometers of home. He usually shops at Kumud Groceries in Cupertino, just three kilometers from his house.
Like most Indian grocery stores in the area, Kumud is a vegetarian one. The store is busy, and steady traffic means products turn over frequently and are fairly fresh, says Jain.
"It used to be that the big store with the wide selection of produce wasn't very clean, but now you have more choices," he said.
Items he finds at Kumud that he can't find at the American supermarket include fresh chickpeas and long Indian green beans. They also carry a wide variety of Indian vegetables like lauki. Recently, they started carrying dairy products like paneer and ghee.
Joy Annamma, originally from Kerala, shops at Lakshmi Bazaar in San Jose. "I moved here in 1999," she said. "Then you couldn't find what you needed, but now you find all the items here."
"We have a selection that surprises many people," said Shashi Satyanarayana, manager, Lakshmi Bazaar. "In our frozen section, we now carry Surti Papdi Lilva -- a surprise even to me," she added. 
Items like avarekai or hyacinth beans are hard to find even in big Indian cities, said Satyanarayana. "There, shops tend to carry only products popular in that region," she added.
"In California, our customers are from… all over India… So people ask us for certain items, and our distributor goes and searches in India, and gets them for us to carry," she added.
For Urvashi Narain, shopping at her local Indian market in Rockville, Maryland, offers a taste of home beyond the food. "It's very Indian. You feel like you're back in Delhi," she says.
"The people working there are sweet and friendly, and they try to make you feel like you're getting special Indian discounts. We buy parathas, frozen foods, Bhelpuri mix -- lots of savoury things from India that I don't have time to make myself. Or knowledge," she sayd.
She buys golgappas to recreate the Delhi chaat experience. "It's not the same," she admits. "But you have to settle."
Step into any of these shops and experience the familiar smell of ripening mangos and asafetida (heeng), the sound of two aunties chatting in Hindi, rows of rice, spices and chutneys, and a wall of Bollywood DVDs featuring Shah Rukh Khan posters. It all comes together to create a pocket of India that feels like home.
Rosie Iapalucci of Washington, DC visited an Indian grocery for the first time when her husband, Mike, returned from a business trip to Bengaluru.
"He was obsessed with Indian food. He came home and bought several Indian cookbooks, but… there were a lot of ingredients we didn't know or couldn't get at our regular supermarket. So, we found out about an Indian store and went there to buy amchur powder, a ton of spices and frozen Naan. I couldn't believe how many foods they were selling that I had never even heard of."
Shopkeepers report a gradual increase in non-Indian customers in recent years. Satyanarayana said when they first opened, it was only Indians shopping there, but now they have 10 to 15 percent non-Indians.
"I think this is due to an interest in the Indian food we offer, such as Samosas and sweets, made fresh here," she added.
"Non-Indians come asking for spices too. Chinese customers look for henna for hair dye. Lately, they've been asking for turmeric powder. There was an article about its medicinal value as a cure for cancer."
Many of the shops are family-run. "My wife's father bought this shop (Desi Bazaar in Columbia, Maryland) from a relative in 2006," said Pratik Patel, who relocated there in 2009 to begin his medical school residency.
He works part time at the counter with his father-in-law and mother-in-law. He notes that business has increased steadily though they do not advertise; they are known by word of mouth.
Patel says Indians, Pakistanis, Bangladeshis and Americans shop here. The Americans tend to like the frozen foods -- pre-cooked Samosas, curries and Papad. The most popular item is chapaati flour, followed by rice and lentils -- especially toor dal. They also sell stainless steel cookware, henna, hair oil, incense, spices and snacks. The busiest time is around Diwali, when they sell sweets and lamps.
"Our customers are like family," he added. "Last month, our computerised register system broke down and several of our engineer customers offered to repair it for no charge."
The community that arises around neighbourhood Indian shops may be changing as competition grows, and more customers buy goods from online retailers.
I happen to know that the sweet and sour crunchy snack I like is available through Amazon at a competitive price with a minimal shipping charge. But I'm not tempted, because there's nothing like stepping into an Indian grocery store and enjoying the sensory awakening, and the friendly folks at the counter.
By arrangement with SPAN/Trans World Features