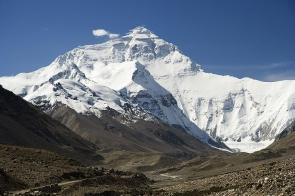 Two 21-year-old Indian sisters have scripted history by becoming the first twins ever to conquer the summit of Mount Everest together.
Tashi and Nancy Malik from Dehra Dun achieved this feat by successfully reaching the world's highest mountain peak at 8,848 meters, said an official at Nepal's ministry of tourism and culture.
The duo was among other record-makers including the first women from Saudi Arabia and Pakistan who climbed the Everest on Sunday.
During a so-called "fair weather" window, 146 people reached the summit of the world's highest peak, with 94 more completing the journey on Monday.
This brings to 348 the total number of climbers who have ascended the mountain since May 10, said Tilak Pandey of the mountain division at the ministry.
Last year, more than 250 climbers reached the summit in a 48-hour stretch of good weather, despite warnings of potentially deadly bottlenecks in the "death zone" above 8,000 metres.