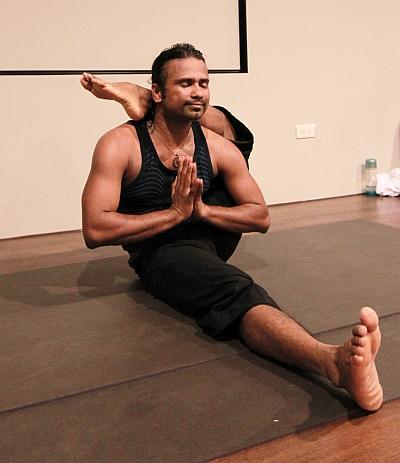 A 29-year-old Indian yoga teacher in Hong Kong on Sunday set a Guinness World Record for performing yoga continuously for 40 hours non-stop, demonstrating more than 1,500 'asanas'.
Yogaraj C P, a yoga instructor based in Hong Kong, broke the record for the 'Longest Yoga Marathon (Male)' by performing continuously for three days starting on Friday and ending on Sunday afternoon.
The yoga instructor did multiple twists and turns at his Tsim Sha Tsui studio, Prana Yogam, which was open to public for the duration of the challenge.
"Yoga record. Yogaraj sets record with 40 hours of non stop Yoga Sadhana in Hong Kong, demonstrating 1500 plus asanas," External Affairs Ministry Spokesperson Syed
Akbaruddin tweeted after Yogaraj accomplished the feat.
"Heartiest congratulations Yogaraj. The Consulate team is proud of your achievement," the Indian Consulate in Hong Kong posted on its Facebook Page.
Yogaraj started practicing the discipline at the age of five and began teaching when he was 12, the South China Morning Post reported.
Among other records under his belt, in 2003, the year he first came to Hong Kong, he held a headstand for two hours and 40 minutes. Back in India in 2011, he held 23 postures while balancing on the seat of a moving motorbike.
His record-breaking attempt this time was supported primarily by the Indian Consulate.
Before attempting the record, Yogaraj had said if he succeeds, he will dedicate the record to Prime Minister Narendra Modi, who was instrumental last year in the UN's decision to declare June 21 International Yoga Day.
"It was great recognition for yoga, so to thank our prime minister I want to achieve this Guinness World Record and help propagate yoga on a global level," he had told the Hong Kong-based daily.