Indian Navy sailor Abhilash Tomy was rescued from the Indian Ocean near Australia in a multi-nation operation on Monday, three days after he suffered a grievous back injury when a powerful storm hit his boat while he was on a solo race around the world, Navy officials said.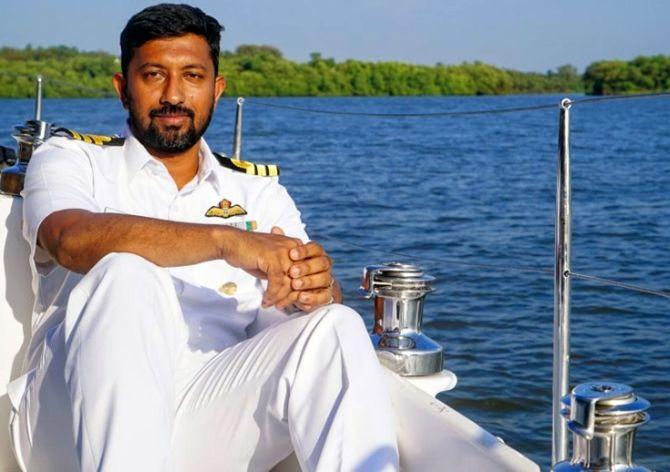 Photograph: Abhilash Tomy/Facebook
Defence Minister Nirmala Sitharaman said the commander is 'conscious and doing okay' after his ordeal.
Tomy, 39, who was sailing as part of the Golden Globe Race (GGR) -- a solo sailboat race around the world -- drifted in the sea for three days before he was rescued by French fishing vessel Osiris, officials said.
His boat Thuriya was hit by a deadly storm, about 1,900 nautical miles from Perth, Australia, on Friday. The main mast of his boat was ripped off by around 15-metre high waves, they said.
Navy spokesperson Capt D K Sharma said French fishing vessel Osris, assisted by Indian Navy's P8I surveillance and reconnaissance aircraft, reached close to Thuriya around 1130 hrs (IST) and carried out a successful rescue operation using a small boat.
"Cdr Tomy was rescued by a boat and rescue team from Osiris. The rescue team shifted Cdr Tomy in a stretcher from Thuriya to Osiris using their Gemini boat. He has been reported to be conscious and has been provided with initial medical care," he said.
Capt Sharma said Osiris proceeded to rescue a second sailor whose boat was also damaged in the storm. Thereafter, the French vessel will move to take shelter at Ile Amsterdam, about 100 nautical miles north of the rescue position. The island has a small hospital.
Indian Naval ship Satpura has been sent to bring the commander, a Kirti Chakra awardee, back to India.
The Australian Rescue Coordination Centre in Canberra coordinated the rescue mission in cooperation with many agencies, including the Australian Defence Department and the Indian Navy.
According to rescue officer Phil Gaden in Australia, Tomy had a severely injured back.
"We believe that he's very severely restricted in his ability to manoeuvre, his mobility is affected," Gaden said.
Tomy was in the third position in the race and sailed over 10,500 nautical miles in the last 84 days, since July 1 when the competition began.
On Sunday, he managed to get in touch with the organisers of the race in France through messages and requested for help as he could not move on his own.
'A sense of relief to know that naval officer @abhilashtomy is rescued by the French fishing vessel. He's conscious and doing okay. The vessel will shift him to a nearby island (I'lle Amsterdam) by evening. INS Satpura will take him to Mauritius for medical attention,' Sitharaman tweeted.
Back home in Kerala, Tomy's family heaved a sigh of relief.
"Praise the Lord. I am so happy...," V C Tomy, a retired Naval personnel himself, told mediapersons at his home in Udayamperoor in Thrippunithura near Kochi.
Tomy senior said he was confident his son will make a comeback to adventure sports.
"He may be physically weak but he will be mentally stable. He will come back. I have full confidence in him, he said.
The family is preparing to go to Australia to meet the pilot in the Indian Navy, who has covered 52,000 miles under sail, including a solo non-stop circumnavigation from Mumbai and back in 2012-13.
He also represented India in the 2011 Cape Town to Rio Race, the Spanish Copa del Rey Race in 2014 and the Korea Cup for two years in succession.
He has been awarded the Tenzing Norgay National Adventure Award, the Kirti Chakra for valour and courageous action and Mac Gregor medal.
According to GGR, ahead of commencing his voyage, Tomy had said, "This event recreates in the closest way possible way, the magic of the original race.
"The emphasis is not on technology and its management, but on seamanship and a direct experience of sea. This spartan philosophy is in keeping with my own view that a lot can be achieved with very little," he was quoted as saying.
© Copyright 2023 PTI. All rights reserved. Republication or redistribution of PTI content, including by framing or similar means, is expressly prohibited without the prior written consent.