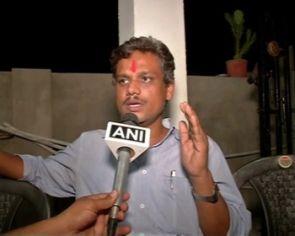 Santosh Bhardwaj, the marine engineer who was rescued after being held in captivity in Niger delta in Nigeria for over a month, on Thursday expressed gratitude towards the Centre for its efforts to rescue him from the clutches of the pirates.
Bhardwaj, who reached his residence in Varanasi on Wednesday, said the pirates took away all their money and belongings.
"They took over the ship, we hid but they held the ship captain hostage. Later on, the pirates took all our money, and other belongings then held us captive in their hideaway. The Indian Government contributed a lot, especially External Affair Minister Sushma Swaraj. The government was in constant touch with the Embassy and our company," Bhardwaj said.
"The pirates basically wanted money, they then contacted the company we worked for and asked for ransom money. We were very scared at first. We didn't know what to expect but the pirates said they wanted money, and won't harm us," he added.
Swaraj had on Wednesday informed that Bhardwaj, who was kidnapped by pirates near Nigeria on March 26, has been rescued.
Swaraj took to Twitter and said, 'I am extremely happy to inform that Shri Santosh Bhardwaj has been rescued from pirates in Nigeria.'
Bhardwaj, an engineer in Singapore-based shipping company Transocean Limited, was kidnapped along with four colleagues from different countries when their ship Sampatiki was at sea, around 30 nautical miles off Nigerian capital Lagos.