The identities of people of Indian descent whose bodies were found in marshland have not been released by the Canadian police, pending identification and notification of next of kin, a media report said on Sunday, as the circumstances of their deaths continued to be investigated.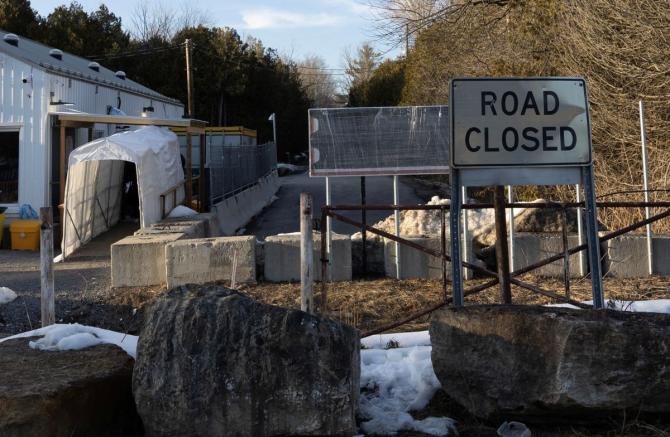 Bodies of eight persons were found on Friday in a marsh on the riverbank near Akwesasne, a community which straddles Quebec, Ontario and New York state.
Police say the deceased -- believed to be two families of Indian and Romanian descent -- were trying to cross into the United States from Canada.
Among them were two children under the age of three, both Canadian citizens.
Akwesasne officials have named two family members of Romanian descent -- including a man holding his two children's passports -- who were among eight bodies recovered from the St. Lawrence River, near the Quebec-Ontario border, the Canadian Broadcasting Corporation (CBC) reported.
The identities of other people recovered of Indian descent have not been released, pending identification and notification of next of kin, the Montreal Gazette newspaper reported.
'The circumstances of their deaths continue to be investigated,' the paper added.
On Saturday, police said that four Indian nationals, who they also believed was a family attempting to cross into the US, have not been identified, the CBC reported.
Police found the bodies of five adults and one infant in the marshland on Friday.
Another infant and an adult woman were located later. One of the children was a Canadian citizen.
The deceased is believed to be of Indian and Romanian descent.
Akwesasne police are working with Immigration Canada to assist with identifying the victims and notifying the next of kin.
They are also increasing surveillance on the river.
Valene Gray, the owner of the Three Feathers Cafe, said the community has been shaken by the tragedy.
"In the past couple of days, it's been very heavy, very emotional, customers coming in and they're sad," Gray said on Saturday. "You could tell they were upset, you could tell they were hurting."
Wanting to offer support to her community, Gray said it was an honour to be hired by the Mohawk council to make sure all of the volunteer searchers were fed. She said the cafe has provided breakfast sandwiches for the past two days and supper on Friday.
Akwesasne police say there have been 48 incidents of people trying to cross illegally into Canada or into the United States through the Mohawk territory since January, and most of them have been of Indian or Romanian descent.
In January 2022, the bodies of four Indians, including a baby, were found frozen in Manitoba near the Canada-US border.
In April 2022, six Indian nationals were rescued from a sinking boat in the St. Regis River, which runs through Akwesasne Mohawk Territory.
© Copyright 2023 PTI. All rights reserved. Republication or redistribution of PTI content, including by framing or similar means, is expressly prohibited without the prior written consent.