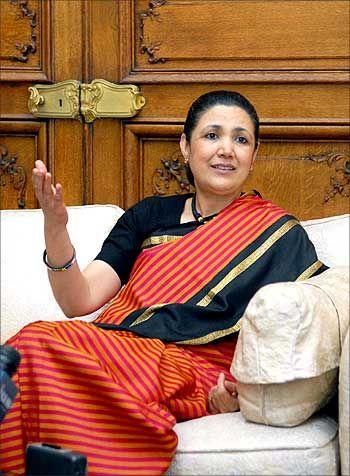 Indian Ambassador Meera Shankar was pulled from an airport security line and patted down by an American security agent in Mississippi despite being told of her diplomatic status, prompting Indian mission in Washington to strongly protest against the incident.
The incident took place on December 4 at the Jackson-Evers International Airport where sari-clad Shankar was about to board a flight to Baltimore after attending the Mississippi State University's programme, an Indian Embassy official said.
Shankar presented her diplomatic papers to officers and was escorted by a Mississippi Development Authority representative and an airport security officer, but witnesses said she was subjected to the hands-on search, the official said.
She was taken to a VIP waiting room despite being told she was an ambassador. She was later pulled from a security line and patted down by a woman Transportation Security Administration agent.
The official said the Indian Embassy will take up the issue with the State Department. "We are taking it up with the State Department," the Embassy official said.
Witnesses were quoted by the local Clarion-Ledger newspaper as saying that security agents told Shankar she was singled out because she was wearing a sari.
This is for the first time that Shankar, who always has been seen wearing a sari, has had to undergo such a pat-down search in the US. After arriving in Washington as India's top diplomat to the US, Shankar has been travelling a lot inside the US and giving lectures to universities across the country.
But this was for the first time that Shankar was travelling outside Washington after the new TSA regulations went into effect.
New TSA regulations went into effect on November 1 allowing federal security officers at airports to switch to more thorough - but often controversial - "pat-downs" for passengers who require hand searches.
Of late it has received a lot of criticism for its pat-downs and full-body scanning, which TSA argues has been taken up in view of the increased security threat.
The Jackson airport does not yet have full-body screeners, which meant that the ambassador became subject to the thorough pat-down.
Shankar was in Jackson as a guest of Mississippi State University. In town, Shankar met with Lieutenant Governor Phil Bryant, representatives from the Mississippi Development Authority and members of the Indian community in Jackson, and she spoke to more than 100 people at the Executive Lecture Forum of Jackson.
Governor Haley Barbour's spokesman Dan Turner said the governor's office is looking into the incident. "At this time, we're trying to find out exactly what happened - all of the details," Turner said.

In the past, many prominent Indians, including ministers, have faced some uncomfortable moments at US airports. In September, visiting Civil Aviation Minister Praful Patel was quizzed by US immigration authorities at the O'Hare airport in Chicago after his name and date of birth matched with that of another Praful Patel, who is on America's watch-list.

In August 2009, Bollywood superstar Shah Rukh Khan was detained and questioned at Newark Liberty International Airport. Khan was headed to Chicago for a parade to celebrate India's Independence Day, when he was pulled aside by airport authorities for interrogation.

Former Defence Minister George Fernandes had claimed that he was strip-searched twice at Dulles Airport in the US Capital area, when he was on an official visit to Washington in early 2002 and another time while en route to Brazil in mid 2003.