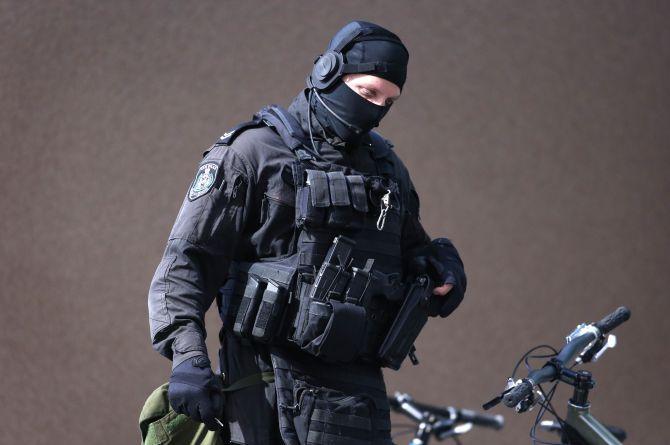 The Indian Consulate in Sydney was on Monday evacuated in view of the hostage situation in a café near its premises and all the staff members are safe, the external affairs ministry said.
"As a preventive measure in accordance with the local requirements, we have evacuated the staff from the Sydney Consulate building because it is located about 300-400 metres away from where this incident took place," Ministry spokesperson Syed Akbaruddin said in New Delhi.
An armed man took undisclosed number of people hostage at a café in Martin Place in the heart of Sydney's business district.
The Indian Consulate is in touch with local authorities and all the staffers in the consulate are safe, the spokesperson said.
"Our consulate is in touch with local authorities. External Affairs Minister Sushma Swaraj has spoken to the high commissioner who is in touch with local organisations," Akbaruddin said.
"Such incidents are always difficult to handle but we have standard procedures which are in place in such matters. We have also set up a helpline and the deputy counsel general is available on +61481453550.
"In case anybody would like to know any information we will be providing that information. At this stage, all we can do is to keep in touch with local authorities and provide information as and when that is provided to us," the spokesperson said.
He said the government is focussed on the issue of safety and security of Indian nationals there.
Martin Place is a public pedestrian thoroughfare through the heart of Sydney, joining its parliamentary, legal and retail districts.
In Sydney, Consul General Sunjay Sudhir said that due to security concerns "the office was locked down at 12.00 pm and all the officers were asked to go to places of safety."
He said that the Central Business District where the café is located is the area where many Indian establishments including the State Bank of India, Bank of Baroda and Indian tourism office are located.
"We are in touch with the security agencies and have asked them specifically if any Indians were present inside the café," Sudhir added.
Photograph: A heavily armed police officer walks near Lindt cafe, where hostages are being held,in Martin Place in central Sydney. David Gray/ Reuters