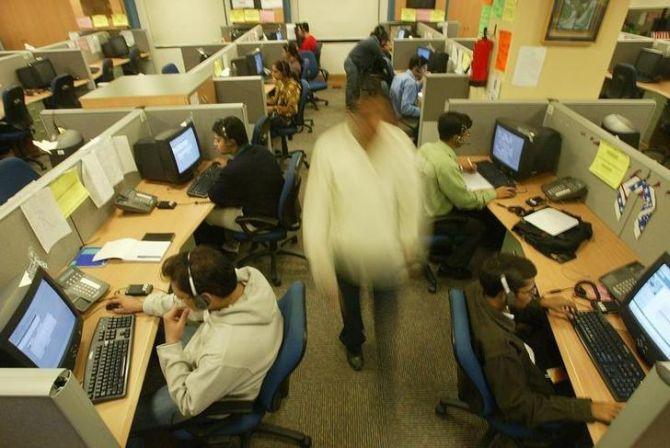 The five Indian call centres, charged with defrauding thousands of Americans, stole more than $300 million (Rs 2005 crore) from their victims, United States Homeland Security Secretary Jeh Johnson has said.
Johnson on Thursday said an inter-agency effort resulted in the indictment of all five call centres and 56 people, including 31 from India, as well as the arrest of 20 others in the US, most of whom are Indians.
He said they were "engaged in defrauding thousands of victims, stealing more than a total of $300 million."
The scheme involved a network of call centres based in Ahmedabad, where associates of the ring would call victims in the US impersonating Department of Homeland Security, Internal Revenue Services, or other government officials, demanding payment in order to clear fictitious arrest warrants, orders of deportation, or unpaid income tax, Johnson said.
The five Ahmedabad-based call centres that made calls to people living in the US are Hglobal, Call Mantra, Worldwide Solution, Zoriion Communications and Sharma BPO Services.
The treasury inspector general for tax administration, department of homeland security, department of justice, the internal revenue service and the federal trade commission announced the indictments, the result of a three-year investigation that was the largest single domestic law enforcement action connected with the impersonation scam.
"To date, more than 1.8 million people have reported to TIGTA that they have received an impersonation call; more than 9,600 victims reported that they paid the impersonators a total amount that exceeds $50 million (Rs 334 crore)," TIGTA Inspector General J Russell George said.
"The largest single amount paid as a result of the IRS impersonation scam as charged in the indictment is $136,000, paid by a victim in California," George said.
The US Senate Aging Committee, that studies issues related to older Americans, received more than 1,100 calls from senior citizens across the country on its fraud hotline in 2015.
The most common complaint reported to the fraud hotline continues to be the IRS impersonation scam.
© Copyright 2021 PTI. All rights reserved. Republication or redistribution of PTI content, including by framing or similar means, is expressly prohibited without the prior written consent.