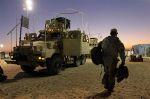 An Indian-American woman, who faced sexual abuse while serving as a marine, has appealed to the lawmakers to open civil courts for military civilians for ensuring justice to them in cases of sexual harassment in the Army.
Anu Bhagwati, now the executive director and co-founder of the Service Women's Action Network, was speaking at a Congressional hearing on Sexual Assault in the Military.
"During my five years as a Marine officer, I experienced daily discrimination and sexual harassment. My experiences came to a head while I was stationed at the School of Infantry at Camp Lejeune, North Carolina from 2002 to 2004, where I witnessed reports of rape, sexual assault and harassment swept under the rug by a handful of field-grade officers," she said.
While in service, Bhagwati faced discrimination and harassment as a woman and has borne direct witness to military's handling of sexual violence, said Senator Kirsten Gillibrand, who chaired the special Congressional hearing.
Perpetrators were promoted or transferred to other units without punishment, while victims were accused of lying or exaggerating their claims in order to ruin men's reputations, she alleged.
As a company commander at the School of Infantry, she ultimately chose to sacrifice her own career to file an equal opportunity investigation against an offending officer, Bhagwati said.
"Many of the women who were impacted by these incidents, including me, are no longer in the military. However, all of the officers who were complicit in covering up these incidents have since retired or are still serving on active duty," she told lawmakers.
Noting that sexual assault and sexual harassment are "pervasive throughout the military", Bhagwati said such cases occur today in every branch of service.
She asserted that the military leadership cannot solve this problem on its own, Bhagwati urged the Congress to enact reforms going forward.
"Congress must ensure that men and women in uniform can access the remedies available to all other aggrieved individuals under the Federal Tort Claims Act and the Civil Rights Act," she said.
Bhagwati said civil courts traditionally have been designed to serve victims, where there is a "lower burden of proof" and victims are likely to get more justice in that system.