Asian Americans favourability rating of Romney is considerably lower, about half of the level for Obama, says a study on the political and social attitudes of Asian Americans released in Washington DC.  Aziz Haniffa reports.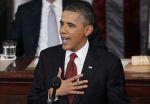 Indian Americans are by far the strongest supporters of President Barack Obama among the likely 2012 voters in the Asian American and Pacific Islander community. Obama enjoys support by a margin of 68 to five percent over Republican presidential nominee Mitt Romney, with 25 percent undecided, a landmark study on the political and social attitudes of Asian Americans released in Washington DC on Tuesday has found.
The report by the National Asian American Survey, which claims to be the largest-ever nationally representative and comprehensive survey of AAPI (Asian American and Pacific Islander) public opinion conducted in the United States, said, consequently, "while (Indian American) Governors Bobby Jindal(Louisiana Republican) and Nikki Haley(South Carolina Republican) are among the strongest critics of Barack Obama, they seem to be in a relatively small minority of Indian Americans who support Mitt Romney."
The report, authored by Karthick Ramakrishnan, director of the National Asian American Survey and associate professor of political science at the University of California, Riverside, and Taeku Lee, principal investigator of the National Asian American Survey and professor of political science and law at the University of California, Berkeley, and based on a NAAS telephone survey of a nationally representative sample of over 3,000 Asian Americans, claimed it offered the most comprehensive portrait available of Asian Americans, the fastest-growing group in America.
It included data on Asian Americans' views on the presidential candidates and their positions on issues such as affirmative action and health care reform, and was also the first-ever national survey of the political and social opinions of Native Hawaiians and Pacific Islanders.
The survey said that like Asian American voters in 2012 favoured Obama over Romney by a wide margin on 43 to 24 percent, but acknowledged that "at the same time, a very large proportion of likely voters (32 percent) is undecided."
It said the party conventions "did not decrease the proportion of undecided voters," and noted that "for those Asian Americans respondents who were interviewed after September 6, 2012, 32 percent were undecided, 45 percent supported Obama; 22 percent supported Romney."
The report said that Obama also "draws a disproportionate share of support among young Asian Americans (73 percent of likely voters age 18 to 34), and sizable leads in all other age categories, including among the elderly -- a pattern that is not found among the general population."
"Unlike in the general population, however, there is no significant gender gap in the Presidential vote -- Asian American men are just as likely to declare their support for Obama over Romney (42 percent to 24 percent) as women (43 percent to 23 percent)," it noted.
The survey also said that Indian Americans and Korean Americans "constitute a larger share of the battleground states than their national averages," particularly in Florida, Virginia, Pennsylvania and Michigan.
Approval of the president's job was also the highest among Indian Americans -- 82 percent -- according to the survey which said Asian Americans have a significantly higher approval of the job performance of Obama than the national average -- nearly 10 points higher. It reached below the 50 percent mark only for Filipinos (45 percent) and Samoans (41 percent).
It said that Obama's "relatively high approval rating is also matched by higher favorability ratings than the national average," and noted that "while 51 percent of the national population has a favorable impression of Barack Obama, 59 percent of Asian Americans do so," and here too, "the favourability rating is particularly high among Indian Americans (88 percent) and Korean Americans (76 percent), and is particularly low among Vietnamese Americans (20 percent) and Filipino Americans (46 percent)."
The report said that Asian Americans favourability rating of Romney is considerably lower, about half of the level for Obama (30 percent versus 59 percent), with Indian Americans rating Romney's favourability only at 30 percent.
It said that Filipinos, Korean Americans, and Japanese Americans give Romney the highest favourability ratings, "although even in these cases the levels do not rise above 40 percent."
Asian Americans also, the report said, give Democrats in Congress much higher favourability ratings than Republicans in Congress (43 percent to 24 percent respectively) with the Indian Americans rating Democrats in Congress at 66 percent compared to Republicans at 25 percent.
In terms of priority issues for Asian Americans, the survey found that "the economy is, unsurprisingly, the most commonly cited national problem, named by a majority of both likely voters and all respondents."
"Following a distant second is the related issue of unemployment and jobs, with healthcare and education running third and fourth," it said, and added, "Very few respondents mentioned issued like the budget deficit, poverty and inequality, race and racism or immigration as the most important problem," when respondents were asked what they felt was "the most important problem facing the United States today." The survey allowed people to name up to two issues.
The survey also found that there were high levels of support for health care reform, regardless of whether it is called Obamacare, and interestingly at a briefing coinciding with the report, Ramakrishnan said in the case of the Indian Americans polled, when they were asked to respond to the Health Care Affordability Act, their support decreased, but when asked to respond to Obamacare, their support increased.
With regard to mobilisation and participation beyond voting, the report said that there were some striking differences across groups in how often they are mobilised and by whom. "Chinese, Japanese and Korean Americans are most likely to be contacted about the election, while Asian Indians and Cambodians appear relatively neglected."
It said, "These differential rates of mobilisation are mirrored in the relative attention of political parties and candidates, who reach out to Chinese and Japanese Americans at rate far higher than other groups and who rarely reach out to Asian Indians or Cambodians."
"Interestingly, independent groups, community organisations, and other entities fill-in some of this gap, who are more likely to be mobilised by one of these other sources than they are by parties of candidates," the report added.
It also said that "a majority of Asian Americans discuss politics with family and friends, with Japanese (74 percent) and Koreans (64 percent) especially likely to talk politics." These levels are somewhat higher than for the general US public.
In the case of Indian Americans, the survey found that 41 percent discussed politics, six percent worked in a campaign, and 10 percent contributed money.
Between 2000 and 2010, the AAPI population grew faster than any other racial group, at a rate of 46 percent, and according to Ramakrishna, "we beat out the Hispanics by a whisker.
The survey said, in 2010, AAPIs were over five percent of the population in 145 congressional districts, and in over 600 cities or municipalities. And, as an important and growing political constituency, 6,00,000 new Asian American voters entered the electorate in 2008 and a similar number of new voters is expected in 2012.