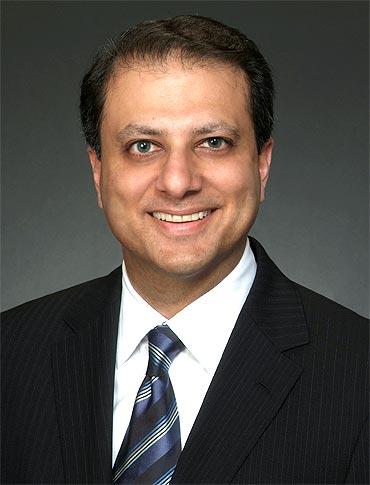 India-born US Federal Attorney Preet Bharara, spearheading the prosecution of 9/11 mastermind Khalid Sheikh Mohammed, now has another high-profile terrorism case in his hands -- the Times Square bombing plot involving Pakistani-American Faisal Shahzad.
The job of delivering a conviction on 30-year-old Shahzad will fall on Harvard and Columbia-educated 'legal eagle' Bharara, who is one of the 93 US attorneys appointed by the US President Barack Obama in May 2009.
Following Shahzad's dramatic arrest over the botched Times Square bombing plot on Saturday last, 41-year-old Bharara said on Tuesday that 'the dedicated agents, detectives, and prosecutors in this case will continue to follow every lead and use every tool to keep the people of New York City safe.'
He also vowed that 'we will not rest until every terrorist, whether homegrown or foreign-based, is neutralised and held to account.'
Bharara heads the US attorney's office for the Southern District in New York, which covers Manhattan, where the botched bombing took place, and John F Kennedy International Airport, where terror suspect Shahzad was arrested at the last minute as he attempted to flee the United States to Pakistan.
Under Bharara there are over 200 lawyers who handle some of America's most prominent cases, like trial of Khalid Sheikh Mohammed and the prosecution of Bernard L Madoff for his multi-billion-dollar Ponzi scheme.
He is also currently handling the prosecution against the Galleon Group, one of America's largest insider trading scam where the defendants include Sri Lankan Raj Rajaratnam and Indian-Americans Anil Kumar and Rajiv Goel.
Previously an assistant attorney in the Southern District, Bharara made his name as the Senate staffer who helped drive Attorney General Alberto Gonzalez from office by uncovering and investigating the Bush administration's firing of eight prosecutors for allegedly political purposes.
Bharara was born in Ferozepur, Punjab, and his parents immigrated to the United States in 1970 when he was an infant. He grew up in New Jersey and graduated from Harvard in 1990 and Columbia Law School in 1993.
"As a naturalised American citizen from India, Bharara also brings a diversity of background to the post," the New York Times said after the US Senate confirmed him as the United States attorney in Manhattan.
His father, a Sikh, and his mother, who was Hindu, were born in what is now Pakistan, before the partition. His wife's father, a Muslim, had moved from the Indian side to Pakistan during partition.
Image: Preet Bharara