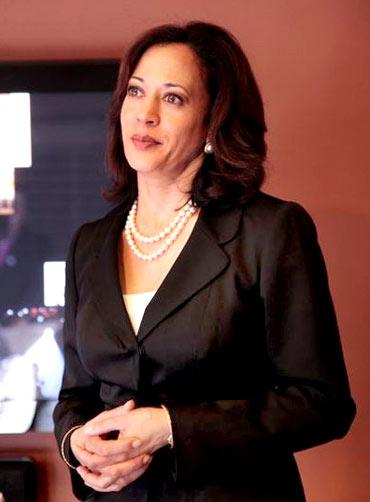 Endorsed by United States President Barack Obama, Indian-American Kamala Harris on Wednesday won the election for Attorney General of California, soon after Indian origin Nikki Haley of Republican Party scripted history by winning the governorship of South Carolina.
Kamala will be the first woman to hold the office of Attorney General in California, elections for which were held on Tuesday.
Daughter of an Indian mother and African-American father, Kamala is currently the San Francisco Attorney General. She would replace Democratic Jerry Brown who won the election for Governor of California on Tuesday.
Kamala, who was the only Indian-American candidate to be publicly endorsed by Obama, defeated Steve Cooley of the Republican Party in a tough fight.
"Kamala has done a remarkable job in San Francisco. Now it's time to send her to Sacramento so she can get those same results for all Californians -- but she needs our help if she's going to win this race," Obama had said in his endorsement message last month.
The US President had also attended a fund raiser for Kamala in California last month. In key mid-term polls in which President Obama's Democrats were routed, 38-year-old-Haley, born of Sikh parents who migrated from Punjab, became only the second Indian- American to be a Governor of a US State after Bobby Jindal of Louisiana; and also the first Indian-origin woman governor.
Haley received 52 per cent of votes as against her Democratic rival Vincent Sheehan who polled 46 per cent. She has served three-terms in the South Carolina House of Representatives where she represented Lexington County and was also the first Indian-American to hold office in that state.
Born and raised in the East Bay, Kamala was elected as the first woman District Attorney in San Francisco's history in December 2003, and as the first African-American woman and South Asian American woman in California to hold the office. She was overwhelmingly reelected to a second term in November 2007.
Kamala is the daughter of Dr Shyamala Gopalan, a Tamilian breast cancer specialist who traveled to the United States from Chennai, to pursue her graduate studies at UC Berkeley.
After attending public schools, her strong commitment to justice and public service led her to Howard University, Americas oldest historically Black university, and then to the University of California and Hastings College of the Law.
She is the recipient of numerous awards. California's largest legal newspaper, The Daily Journal, designated Kamala as one of the top 75 women litigators in California the only elected official to receive that honour as well as one of the top 100 lawyers in the state.
She was recognised as a 'Woman of Power' by the National Urban League and received the Thurgood Marshall Award from the National Black Prosecutors Association.

She has been featured on the Oprah Show and in Newsweek as one of "Americas 20 Most Powerful Women." She was selected as one of 24 elected leaders from throughout the country to serve as a Rodel Fellow with the Aspen Institute.
Additionally, Kamala was elected to the Board of Directors of the California District Attorneys Association and is a Vice President of the National District Attorneys Association. Six other Indian-origin candidates failed to enter the House of Representatives in the poll where the Democrats have suffered heavily.
Five of them were Democrats Manan Trivedi from Pennsylvania, Ami Bera from California, Raj Goyle from Kansas, Ravi Sangisetty from Louisiana and Surya Yalamanchili from Ohio. Ashvin Lad from Illinois is the only Republican Indian American in fray.
So far only two Indian-Americans have made it to the House of Representatives Dalip Singh Saund and Bobby Piyush Jindal. In Pennsylvania, Trivedi, a Iraq war veteran, who was ahead in the initial counting of votes lost to Republican Jim Gerlach. While Trivedi had received 99,517 votes, Gerlach had received 131,715 of the total votes polled.
Image: Kamala Devi Harris  Photograph: Wikimedia Commons