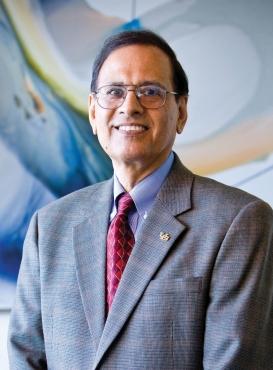 Satish K Tripathi, who as provost raised academic standards and spurred student development, has been appointed president of the University at Buffalo in Buffalo, New York.
Tripathi, who maintains close relations with several major educational institutions in India, is the first Indian American to become president of one of the 63 research universities that are part of the American Association of Universities, which produces, among other things, about half the PhDs coming out of American universities.
While recommending Tripathi for president, State University of New York Chancellor Nancy L Zimpher asked the SUNY board of trustees to convene a special meeting in April to formally consider Tripathi's appointment. She also named Tripathi as UB's officer-in-charge, effective immediately, with all of the responsibilities and authority of a campus president.
"Dr Tripathi's international reputation as an accomplished researcher and transformative leader in higher education makes him ideally suited to serve as president of the University at Buffalo," she said.
UB Council and Search Committee Chair Jeremy M Jacobs said they reviewed 68 candidates, representing a diverse pool of academic disciplines and professional experiences. Jacobs, who has been involved in multiple presidential searches at UB, said that this was the most competitive candidate pool he had seen.
"Dr Tripathi quickly emerged as a front runner in the search committee's review process. His impressive body of work as a scholar and academic leader, and his compelling vision for UB's future made him the council's unanimous recommendation to lead our university. I am confident that he will carry forth and strengthen UB's legacy of excellence," Jacobs said.
Tripathi joined UB as provost in 2004 after serving as dean of the Bourns College of Engineering at the University of California-Riverside.
Since as part of the State University of New York system, UB is a public university, most funding comes from the government, but the president has to help the university find its share, when, in the last 10 to 15 years, government funding for public education has been declining. Tripathi is aware of the challenges.
"The erosion of public funding will have a long term effect and our leaders should be aware of that fact," he said.
America has not been keeping up with other countries in the field of higher education; nearly 5,000 international students are part of UB's 29,000-strong student body. Of these, about 1,200 apiece are from India and China.
Tripathi said he never thought he would become president when he joined the university, being satisfied working as provost. There, Tripathi was one of the creators of the UB 2020 strategic plan to achieve academic and research excellence. He has helped recruit many prominent faculty to the university, particularly those in key areas of research and academics.
Originally from a village in Ambedkar Nagar district in Uttar Pradesh, India, he returns frequently to oversee a girls' school his father started there. He also keeps ties with his alma mater, the Banaras Hindu University, and with the Indian Institutes of Technology-Madras and Delhi. He also advises faculty at IIT Gandhinagar in Gujarat and the Amritha University in Coimbatore, Tamil Nadu.
After meeting Prime Minister Manmohan Singh, in 2005 Tripathi signed a memorandum of understanding to establish the Indo-US Inter-University Collaborative Initiative in Higher Education and Research. The memorandum led to a partnership between UB and Amrita University on collaborative activities that include dual master's degree programmes in management and computer science. UB's educational programmes in Singapore, in partnership with the Singapore Institute of Management, also grew under Tripathi.
Before joining UC-Riverside in 1997, Tripathi was a professor with tenure in the Department of Computer Science at the University of Maryland for 19 years, serving as chair from 1988-1995.
While there, he was also a visiting professor at the University of Paris-Sud in France and the University of Erlangen-Nuremberg in Germany.
Tripathi graduated top of his class from Banaras Hindu University in India in 1968.
Besides a doctorate in computer science from the University of Toronto in 1979, he holds three master's degrees -- one in computer science from the University of Toronto (1976) and in statistics from both the University of Alberta (1974) and the Banaras Hindu University (1970).
Tripathi and his wife Kamlesh have two children: Manish is a faculty member at Emory University and Aashish is an official at eBay.