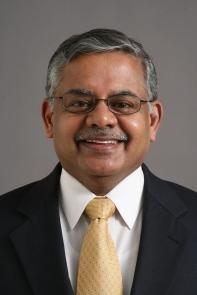 Indian-American Nagi Naganathan, an alumnus of the National Institute of Technology at Tiruchirappalli, has been appointed interim president of the University of Toledo.
Naganathan, 58, has been at University of Toledo since 1986, first as a professor and later as chairman of the department of mechanical, industrial, and manufacturing engineering.
Board members unanimously approved his appointment. "As interim president, I will do my very best to make sure that our university remains committed to excellence in academics, research, patient care, and community engagement through a synergistic engagement of our expertise in all of our campuses," Naganathan said in a statement.
Naganathan has received a number of prestigious awards, including a Fellow of the American Society of Mechanical Engineers, UT Outstanding Teacher Award, UT Outstanding Researcher Award, TST/TSPE Engineer of the Year, and Distinguished Alumnus Award from his alma mater, the National Institute of Technology in Tiruchirappalli.
He came to the United States in 1979. Naganathan earned his bachelor's degree with honors in mechanical engineering from the National Institute of Technology at Tiruchirappalli (formerly known as RegionalEngineeringCollege), a master's degree in mechanical and industrial engineering from Clarkson University, New York and a PhD. in mechanical engineering from OklahomaStateUniversity.