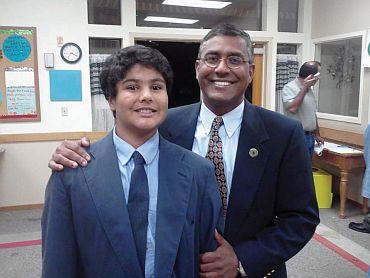 Balaji R Venkatraman, who is seeking re-election to the Evergreen Elementary School District board in San Jose, California, says school election is not about politics, it's about schoolchildren.


There are three candidates running for two open seats. Venkatraman, an incumbent, is confident of winning the November 6 election. The other two are Vincente M Songcayawon, also an incumbent, and Bonnie Mace.


Venkatraman was appointment to the board in October 2011, replacing Carolyn Clark on her retirement after 35 years in the EESD.


Venkatraman said his school district receives the least funding of all those in California.

The state gives funding based on average daily attendance, but because the district lies in a primarily agricultural area, where attendance can be low, it often gets less funding.

Also, the property tax base is smaller than in neighbouring cities.


Venkatraman, a director at Hewlett-Packard, has been living in Evergreen since 2003. He said he got into public service because he believes that "your life revolves around on what your children are doing."


He said he used to visit classroom to read books to the children and became involved in their extracurricular activities and slowly started spending more time in school. He believes public schools need more parents' involvement.


Evergreen Elementary has 13,300 schoolchildren with 15 elementary schools and three middle schools.


During his tenure, he said, he tried to emphasised more on the English language, the medium of instruction at most schools, because "if you do not understand English and even if you have an aptitude for math you cannot make progress."


He said he believes that once children know to read and catch up with science then the school can add more aggressive math.


"Math is not just numbers; there are word problems that students have to understand and then convert it into equation."


He said he is also working with the school district on a new educational methodology to help underprivileged children in his jurisdiction.


A new project coming up this fall is a school within a school.


Called Bulldog Tech, the project-based learning programme worth $1.2 million provides students with laptops and iPads.


"We educate them not just in classroom, but with given projects (where they) work as a team," said Venkatraman.


The programme has been introduced in the George V Leyva Intermediate School in San Jose. Falling under the Evergreen Elementary district, the school has the high ratio of underprivileged children.


Venkatraman said the experiment has been adopted by very few schools in California. "We are trying the best we can with the resources available," he said.


About 50 per cent of the district's students are Asian, 3 percent are Pacific Islander, 29 percent are Hispanic, 8 percent are white (not Hispanic), 7.9 percent are Filipino, and 1.7 percent are in other categories.


Twenty-six per cent of the students are English learners and represent about 40 languages spoken in the district; 31 percent qualify for the free and reduced price school lunch; and nine per cent receive special education services.
Image: Balaji Venkatraman with his son Aditya, who is also his campaign manager