President Droupadi Murmu on Tuesday urged people to put in their best to build in the next 25 years a developed India connected to its past glory and containing every golden chapter of modernity.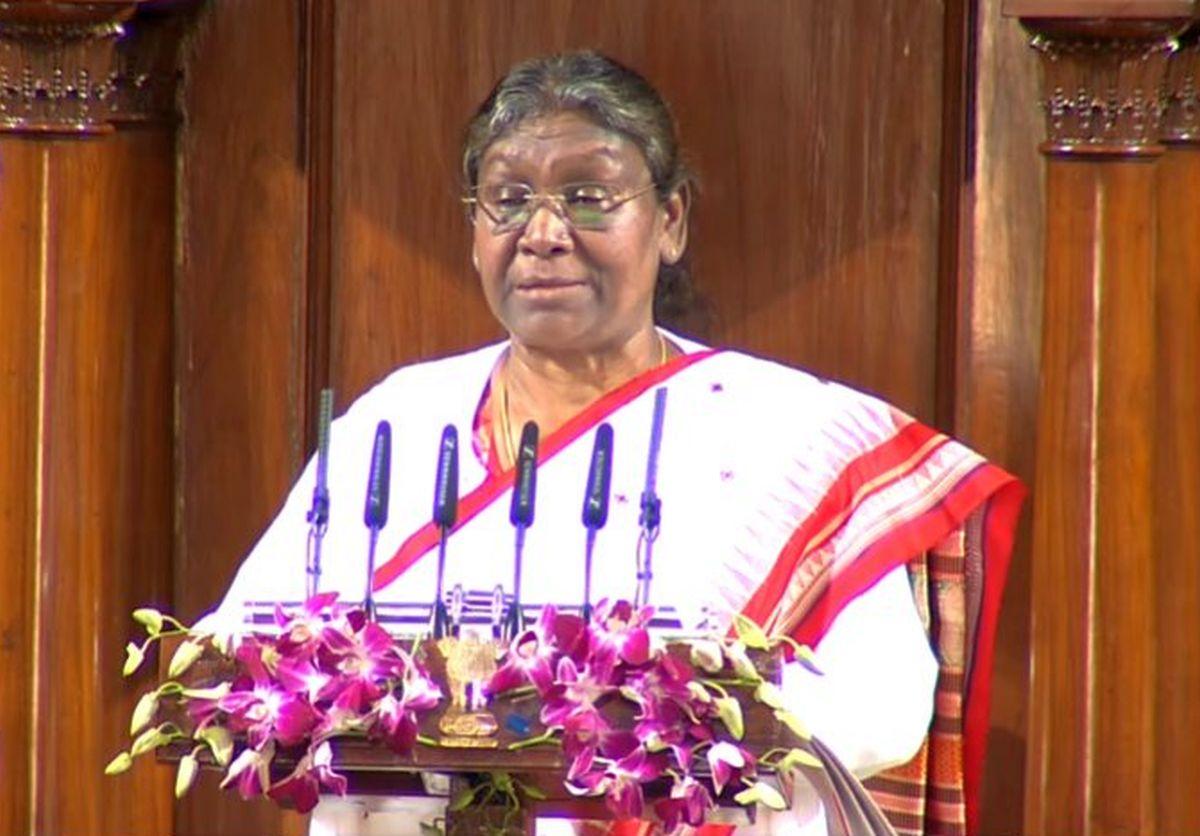 In her first address to the joint sitting of Parliament as the Budget session began, she said 'Amrit Kaal', described by the government as the 25-year period culminating in the centenary of India's independence, is the time to build an India which is 'aatmanirbhar' (self reliant) and also fulfils its humanitarian obligations.
It will be an India with no poverty and a prosperous middle class and whose youth and women are at the vanguard of guiding the nation, the president said, amid frequent thumping of desks by lawmakers at the Central Hall of Parliament.
Under the nearly nine years of the Prime Minister Narendra Modi-led government, the country has seen many positive changes, she said, adding that the biggest change is that the self-confidence of every Indian is at its peak and the world has changed the way it looks at India.
While India used to depend on others to solve its problems, it is now working to solve global problems, Murmu, India's first tribal president, said.
People have been given basic amenities missing for decades and modern infrastructure that society long aspired for is being built across the country, the president said. She cited the expansion of digital network and the crackdown on corruption during the Modi government's tenure.
"India now has a government which is stable, fearless and decisive and which works to fulfil big dreams. It has a government which respects honesty and works to solve the poor's problems and empower them permanently," she said.
The government has fulfilled the aspirations of the deprived sections of society, the president said.
During her speech, Murmu said about 3 lakh women farmers have been benefitted from PM-KISAN scheme under which Rs 54,000 crore has been transferred to them so far.
The Pradhan Mantri Kisan Samman Nidhi (PM-KISAN) scheme was launched in February 2019 but is being implemented with effect from December 2018.
Under the scheme, eligible farmers are provided with a financial benefit of Rs 6,000 per year in three equal instalments of Rs 2,000 each every four months. The fund is directly transferred to bank accounts of the beneficiaries.
Murmu said the government's priority is 11 crore small farmers who were for decades deprived of the benefits. These farmers are now being empowered.
"Under PM-KISAN, more than Rs 2.25 lakh crore has been transferred. Important thing is that about 3 lakh are women farmers," Murmu said.
About Rs 54,000 crore has been transferred to these small women farmers, she said.
Likewise, the government is implementing several schemes like Pradhan Mantri Fasal Bima Yojana, Soil Health Card and Kisan Credit Card, which has been extended to fishermen and livestock farmers, to empower small farmers, she added.
"From setting up of farmers producers' organisations to increasing minimum support price, the government is standing with small farmers to empower them," Murmu said.
As per latest government data, the number of beneficiaries who received the first installment stood at 3.16 crore.
The number stood at 6.63 crore in the second installment, nearly 8.76 crore in the third, 8.96 crore in 4th, 10.49 crore in 5th, 10.23 crore in 6th, 10.23 crore in 7th, 11.16 crore in 8th, 11.19 crore in 9th, 11.16 crore in 10th, 11.27 crore in 11th instalment and 8.99 crore in 12th instalment.
PM-KISAN is a central sector scheme with 100 per cent funding from the Centre. State governments and UT administrations identify the farmer families that are eligible for support as per the scheme's guidelines.
© Copyright 2023 PTI. All rights reserved. Republication or redistribution of PTI content, including by framing or similar means, is expressly prohibited without the prior written consent.