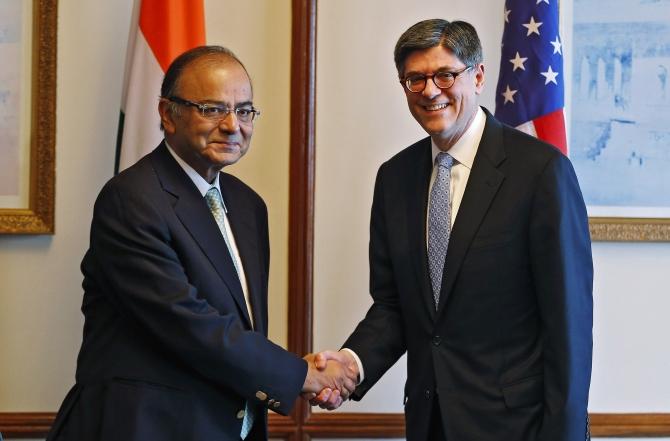 US Treasury Secretary Jack Lew shakes hands with Finance Minister Arun Jaitley before the fifth US-India Economic and Financial Partnership Dialogue in New Delhi. Photograph: Adnan Abidi/Reuters
To combat terror financing, India and the United States on Thursday committed to work together to check illicit money transfers for terrorism and other illegal activities, even as the two countries discussed ways to boost trade ties.
Finance Minister Arun Jaitley and the visiting US Treasury Secretary Jacob Lew also discussed a range of other issues, including on taxation and long-term investment strategies, during the 5th Indo-US Economic and Financial Partnership meeting in New Delhi on Thursday.
"We have had a close cooperative relationship with India. We share a common commitment to working together to try as much as we can to shut down the flow of funding to those who commit terrorist act and other kinds of activities," Lew said at a post-meeting joint press conference.
"We discussed money laundering and funding of terrorism, since a large number of these funds come through concealed identities. This issue has been brought to out notice and the concerned authorities, including central bank, has taken appropriate action in this matter," Jaitley said.
Cooperation at global level is needed to check money laundering, Jaitley said, adding that the issue of India becoming a part of Foreign Account Tax Compliance Act, which will lead to automatic exchange of information between the two countries, were discussed at the meeting.
The meeting follows a direction issued earlier this week by the Reserve Bank, asking banks to strictly monitor export financing after the enforcement directorate reportedly unearthed an over-invoicing scam involving oil payments to Iran.
The ED had found that crores of Rupees accumulating in an UCO Bank branch in Kolkata in oil payments to Iran, were siphoned on the pretext of exporting essential items such as medicines and machinery to Iran.
Jaitley further said that the overall state of the economy was also discussed in the meeting.
"There were several sectors about which we had detailed discussions -- the financial sector, the macro-economic situation in both the countries, taxation, banking, problems facing entire world with regard to funding of terrorism," Jaitley said.
Stating that the trade between India and the US has reached nearly $100 billion, Lew pitched for more reforms, even as he appreciated the reform measures undertaken by the Narendra Modi government.
"We can significantly advance our interest by promoting economic ties and increasing trade between the two growing markets," he said.
India and the US are expanding their cooperation in a number of areas, including by way of strengthening the financial sector, resolving tax disputes, combating illicit finance and facilitating long term investments through deepening of capital markets in India, Lew added.
"And over the last few years, we have seen significant progress. Trade between our countries has reached nearly $00 billion," he said. He, however, said India accounted for only 1 per cent of the US exports, and 2 per cent of its imports.
"Additional reforms are necessary and increase in public investment combined with a more open investment climate and a deeper financial sector would help attract private infrastructure investment," he said.
The US treasury secretary, however, appreciated the efforts made by the Modi government on reforms to attract foreign investments in the infrastructure sector.
"The fact is that untapped potential in our economic relationship is immense. And by working together to realise this potential, we will strengthen both our economies. By investing in each other's success, we can build a stronger and brighter future," he said.
Jaitley said Indian economy has emerged from challenges and is in a position now to take off at a much faster pace. "We have a great interest in attracting global investment into India. This investment is targeted particularly in the infrastructure sector.
"Also, we need a lot of investment in manufacturing," he said, adding that the steps being taken to ease the process of doing business in the country also came up for discussion.