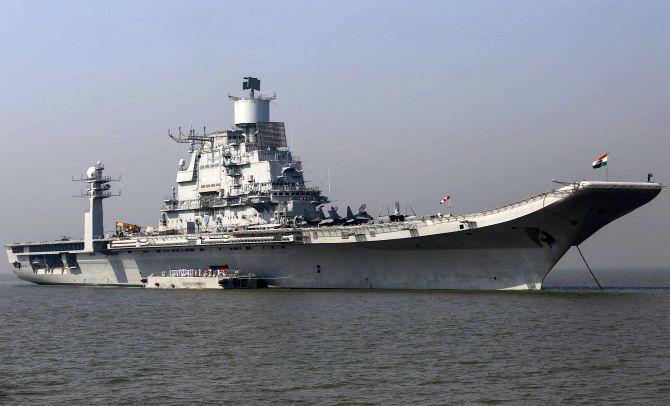 India's aircraft carrier INS Vikramaditya, Japan's largest warship JS Izumo and super-carrier Nimitz of the US will be part of the Malabar exercise, a mega naval war game beginning Monday, amid increased Chinese activities in the Indian Ocean.
A number of other frontline ships, submarines and fighter jets of the three countries will be part of the over week-long drill in the Bay of Bengal which is taking place in the backdrop of a major military face-off between armies of India and China in the Sikkim section.
China has deployed a surveillance ship to keep an eye on the Malabar exercise while the Indian Navy has detected deployment of increasing number of Chinese warships in the Indian Ocean Region.
Beijing has been suspicious about the purpose of Malabar exercises as it feels that the annual war game is an effort to contain its influence in the Indo-Pacific region.
American Navy's guided-missile cruiser USS Princeton, guided-missile destroyers USS Howard and USS Shoup and USS Kidd will be part of the drill, as per a statement by the US Embassy.
A P-8A Poseidon aircraft, designed for surveillance and anti-submarine and anti-surface warfare and a Los Angeles-class fast-attack submarine will participate in the exercise.
The US Navy's USS Nimitz is a super carrier and one of the largest warships in the world.
The Indian Navy's two Shivalik class multi-role frigates a Kora class missile frigate, two destroyes, P8I maritime surveillance aircraft, anti-submarine warfare corvettes, tanker INS Jyoti and nuclear submarine will also be part of the exercise, official sources said.
However, the major highlight will be participation of the over 44,000-tonne aircraft carrier INS Vikramaditya with its Mig 29Ks onboard.
Japan is sending its carrier JS Izumo and destroyer JS Sazanami for the drill.
"Each iteration of this exercise helps to advance the level of understanding between our Sailors, and we hope to be able to continue this process over time.
"As members of Indo-Asia-Pacific nations, our maritime forces are natural partners, and we look forward to continuing to strengthen our bonds and personal relationships," the US Embassy said.
The exercise will cover activities like combined carrier strike group operations, maritime patrol and reconnaissance operations, surface and anti-submarine warfare.
It will also include aspects like medical operations, damage control, special forces operation, explosive ordnance disposal and helicopter operations.
The aim of the Malabar exercise is to achieve deeper military ties and greater interoperability among the three navies in the strategically-important Indo-Pacific region.
Image: INS Vikramaditya, Indian Navy's aircraft carrier, will participate in the military exercise. Photograph: Shailesh Andrade/Reuters