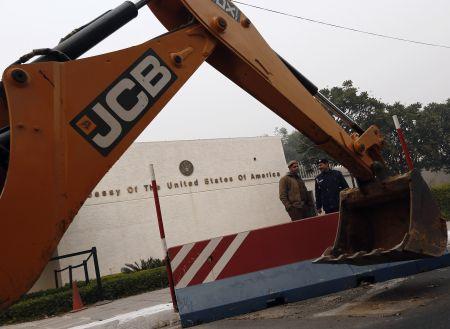 An eminent Indian-American lawyer has urged the Indian government to restore the security barriers at the US embassy in New Delhi which were removed after the country announced a slew of reprisal measures over the treatment meted out to its senior diplomat in New York.
"As an American, the removal of concrete barriers around US embassy by Delhi police was one act that seemed to exceed retaliatory reciprocity, especially since the Devyani affair will lead, in time, to stronger and more respectful US-India ties," said Ravi Batra, who represents the Indian National Congress and its president Sonia Gandhi in US courts.
"Additionally, both nations are joined at the hip to defeat terror even as they help the rule of law of each nation find a new and respectful co-existence. After Benghazi, security of American diplomats is of the highest priority, and barrier-reinstallation is necessary for India's continued right to complain and seek maximum relief for Devyani," he said.
"Other restrictions are sufficient, and have gotten needed attention between friends. A "Chai Summit," like the "Beer Summit," is needed to restore the best relations between United States and India," Batra said.
The 1773 Boston Tea Party, with Indian tea, gave birth to the American Revolution - let Indian Tea reunite two law-abiding nations in 2013, he added.
In the arrest of Indian diplomat Devyani Khobragade, the law of two nations is in conflict, and as such it will take time before a delayed and deliberated court's judgement can issue in one or more country, he observed.
"By then, the critically important bilateral relationship between United States and India may be needlessly scarred and America's non-negotiable interest in having American diplomats treated with maximum dignity and security on foreign soil, where every nation has its own set of laws, will have been tested," he said.
In year 2009, he said, Harvard Professor Henry Louis Gates, Jr. was arrested for disorderly conduct by Sgt. James Crowley.
"A homeowner, trying to get into his own home, can legally be charged with disorderly conduct based upon his behaviour with the police responding to a 911 call. Yet, there were concerns of racial profiling," he said.
"President Obama criticised the arrest, which led to objection by law enforcement. Editorial boards and "talking heads" infused our Republic with discord and a historic unifying presidency was at risk," he added.
"Law was superseded with calmer judgement, as the law permits. We crossed the "great divide" with legal charges being dropped and on July 30, 2009, a White House Beer Summit of good fellowship occurred to re-unite a nation," Batra said.
Image: Policemen stand next to a bulldozer removing the security barriers in front of the U.S. embassy in New Delhi.
Photograph: Adnan Abidi/Reuters