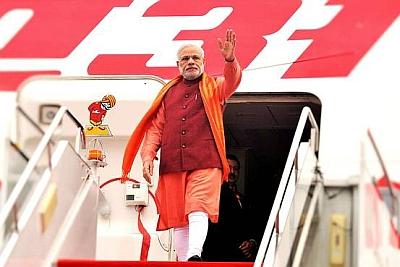 India and the United Kingdom are set to sign a "package of deliverables" during Prime Minister Narendra Modi's first visit here that will also see discussions over cooperation in sectors like nuclear energy and defence.
Describing the India-UK relationship as "mature", Foreign Secretary Philip Hammond sought to move away from any comparisons being drawn with the multi-million pound nuclear deal announced during the recent state visit by Chinese President Xi Jinping.
He said, "There will be a package of deliverables announced while the prime minister is here next week. I suspect that because our relationship is in a sense more mature than some other relationships we have there, it may be that there are rather a lot of medium-sized projects rather than one big iconic project.
"Different countries do things in different ways. As the Indian economy has a very large and important private sector, many of the deals will be commercial and private sector deals rather than government to government deals."
The senior minister in the UK Cabinet narrowed down defence and civil nuclear as an area of focus during the visit and also confirmed that the Make in India aspect of the Hawk trainers will be on the cards.
"Prime Minister Modi's policy approach of seeking to open India up very much facilitates some of the things we would like to do," Hammond said.
"We see scope for example for a much greater government to government relationship in defence equipment, playing into the Make in India programme, where we have significant British defence contractors and British defence IP that can be played into that agenda for developing the Indian defence industry to the benefit of both countries...Hawk trainers will be one of the subjects within the defence package we will want to talk about."
He admitted that discussions over civil nuclear had "run into problems" due to the UK's own system, which has now been cleared up to ensure for a more "constructive" civil nuclear relationship.
"We know that there is a significant role that the UK can play in India's civil nuclear programme and we are pulling out all the stops to make sure we can codify a collaboration that will allow us to work together in the future...we will simply remove the bureaucratic obstacles on both sides and make sure we can see a step change in the way the relationship works," he said.
Modi begins a three-day visit to the UK next Thursday.
In the field of defence, Hammond said that UK giant Rolls Royce was very keen to do more in India.
"Not just for the Indian market but to use the engineering expertise, especially design expertise to expand its operations in India and support its worldwide operations... they [Rolls Royce] are investing in India not just to build for India but to use the skills base in India to be part of its global design and development operation," Hammond said.
He also confirmed Modi's visit to the financial heart referred to as the City of London, where a number of announcements are expected related to financial services and financial technology.
"Prime Minister Modi will be going to the city of London during his visit and that will in itself send an important message. We would like to see closer and institutionalised collaboration between the City of London and financial market centres in India," he said.
The foreign minister also stressed on a "strong and growing security collaboration" between India and the UK.
"That collaboration has undoubtedly saved both Indian and British lives. Clearly we don't go into details but we look forward to continuing working on counter-terrorism and counter-terrorism intelligence in future," he noted.
Hammond expressed his dismay at his travel plans resulting in him missing the "spectacular" Diwali event at Wembley Stadium in London on November 13, which he described as possibly the largest political rally in the history of the UK.
"We are obviously very excited about this visit. We have been trying to persuade Prime Minister Modi to come over for some time. We are delighted he has now agreed to come. It's going to be a spectacular visit in visual terms, largely because of this huge diaspora event which is going to be held in Wembley which will provide iconic images of the visit," he said.
Modi arrives in London on November 12 and lunch with Queen Elizabeth II and a host of engagements with his British counterpart, Cameron, forms part of his hectic schedule.
A visit to Mahatma Gandhi's statue in Parliament Square and an interaction with Indian-origin and other parliamentarians at a reception hosted by the Speaker in the British Parliament are on the agenda.
A visit to the Tata Motors' owned Jaguar Land Rover factory and unveiling of a new Ambedkar memorial in north London and a new statue of 12th century Indian philosopher Basaveshwara are also planned before he leaves for Ankara to attend the G20 summit on November 14.