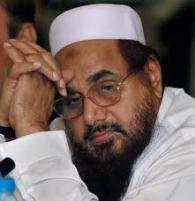 India on Wednesday raised its concerns over millions of rupees allocated by Pakistan's Punjab province government to Jamat-ud-Dawa-led by Mumbai terror attacks mastermind Hafeez Saeed, saying New Delhi would "carefully" analyse the matter before taking it up with Islamabad.
"I have seen the (Pakistan's Punjab government's) budget provision that have been made for the Markaz. It's only a budget that has been presented. We have time on our side and we will look into it carefully," External Affairs Minister Salman Khurshid said in Baghdad.
Khurshid, who is on a two-day visit to Iraq, said, "As advised by the agencies concerned (after analysing it), we will then take up the matter with Pakistan." "I am hopeful, they will respond to our concerns."
Jamaat-ud-Dawa, the parent body of banned terror group Lashkar-e-Tayiba that carried out the 2008 Mumbai attacks, has been allocated Rs 61 million in the budget for the current fiscal by Pakistan's Punjab Province Government headed by Prime Minister Nawaz Sharif's Pakistan Muslim League-N.
Besides a grant-in-aid of over Rs 61 million in its budget for fiscal 2013-14 for 'Markaz-e-Taiba', the largest centre of the JuD, the provincial government has allocated Rs 350 million for setting up a "Knowledge Park" at the centre and other development initiatives.
"Given the positive signals in recent weeks, I would expect that Pakistan would keep the new consideration and address our concerns," Khurshid said, referring to Pakistan's newly elected PM's positive statements on building ties with India during his election campaign.
"I am very hopeful given Pakistan's positive attitude in recent weeks. There are many other signals that I have followed," he said, expressing hope that Islamabad would address New Delhi's concerns in this regard.
"I don't want to jump to conclusion.. We have time to respond to this," he said.
"We are not pushing them. It's a new government. It's beginning... So we will give them little time while we study this," he added.