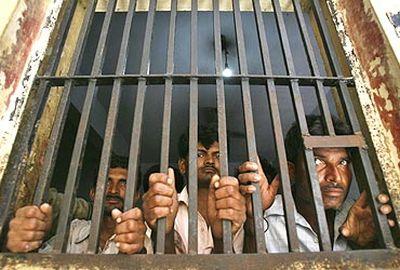 India on Friday said it would give consular access to jailed fishermen from Pakistan and other nations so that their identity could be established, a day after it announced that 88 Pakistani fishermen would be released over the weekend as a "goodwill" gesture.
The government will facilitate visits of officials of Pakistan and other nations to prisons to identify and establish nationality of fishermen lodged there, a home ministry official said.
This came a day after New Delhi announced that it would release 88 Pakistani fishermen over the weekend as "goodwill" gesture after Prime Minister Narendra Modi conveyed the decision to his Pakistani counterpart Nawaz Sharif earlier this week.
India has already communicated the decision to release the 88 Pakistani fishermen to their high commission in New Delhi and was now awaiting for the "exit documents" from that mission.
Pakistan also said yesterday that it would released 113 Indian fishermen lodged in a jail in Karachi as a goodwill gesture. They are expected to be handed over to Indian authorities at the Wagah border.
In a telephonic call to Sharif on Tuesday, Modi extended Ramzan wishes and conveyed to him his decision to release detained Pakistani fishermen on this pious occasion.
"The fishermen released will be able to be with their families to observe this blessed month," Modi had said while conveying his decision to Sharif.
Modi had also noted that there was a need for having "peaceful" and "friendly" bilateral ties between India and Pakistan.
India's gesture comes in the backdrop of a war of words with Pakistan over Modi's critical remarks about Pakistan during his Dhaka visit recently and in the wake of India's military action in Myanmar.
Meanwhile, in a statement, the home ministry said out of a total of 115 Pakistani fishermen lodged in jails in Gujarat, the Centre has decided to release and repatriate 88, whose nationality has been confirmed by the Government of Pakistan, after withdrawal of cases registered against them with the consent of competent courts on humanitarian considerations.
"These 88 Pakistani fishermen have already left Gujarat and they will be handed over to the Pakistani authorities at Attari border on June 21," it said.
Even though there were reports in the media about the release of nine more Pakistani fishermen whose nationality is stated to have been confirmed by the Government of Pakistan, as per available records, the Home Ministry said it has not received any communication regarding the nationality confirmation of these nine Pakistani fishermen.
"Release and repatriation of the remaining 27 Pakistani fishermen lodged in jails in Gujarat will be considered by the government as and when their nationality is confirmed by the Pakistani High Commission," the statement added.
Image used for representational purposes only