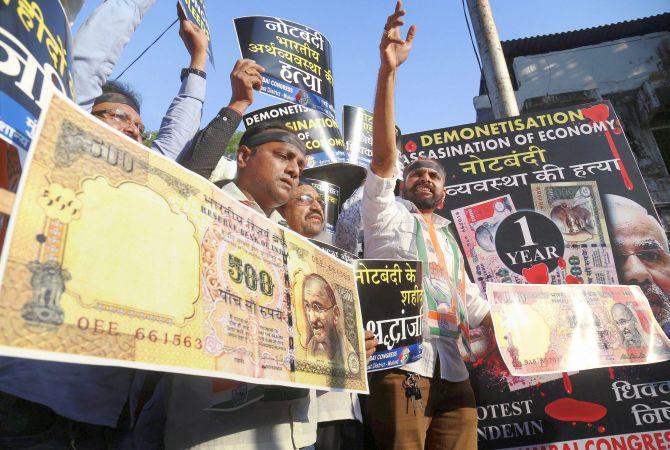 Countrywide protests in the form of processions, rallies and candle-light marches are being planned by the Congress and other Opposition parties to mark the first demonetisation anniversary on Wednesday, as their leaders would observe it as "black day".
The Congress, which described the note ban decision as the "biggest scam" and "the largest government-abetted money laundering scheme", has asked all its state units to organise protests, processions and marches to mark the day.
It has also asked all its leaders to participate in such protests and "strongly" highlight the demerits of the decision, which it said is a "colossal and completely avoidable failure".
The leaders have also been asked to take out their protests with "Desh Bhugat Raha hai" and "India suffers" as the central theme for the day, besides organising press conferences and "aggressively" participating in TV debates to ensure "good publicity".
While Congress vice president Rahul Gandhi will interact with traders in Surat, the hub of diamond industry in poll-bound Gujarat, other top leaders will participate in protests in Delhi and all state capitals. Gandhi will later lead a candlelight march in Surat's Chowk Bazar area.
The Congress, on its website, also put out an article on demonetisation, dubbing it as a "Modi-Made Disaster".
"Even the undeclared emergency in India's newsrooms have failed to contain the news spreading like wildfire through India. Demonetisation was a colossal and completely avoidable failure and the largest government-abetted money laundering scheme in history," the article said.
It further alleged that demonetisation failed to curb black money as 99 per cent of banned Rs 500 and Rs 1,000 notes were returned. This was expected as black money is not usually stored in currency, but property, bullion and more easily convertible currency like dollars.
It said note ban failed to stem terror attacks and insurgency as there were 23 more attacks in Kashmir after the announcement. It didn't tackle the counterfeit problem, given only 0.0013 per cent of the notes returned were fake.
"The truth is the prime minister expected to make a tidy profit of 4 lakh crore from dispossessing those who weren't able to exchange their notes. Instead, 21,000 crore rupees of our tax money was squandered on printing notes, while only 16,000 crore were left unclaimed," the article said.
According to the Opposition, the decision to ban currency notes of higher denomination was "totally ill-conceived" and had bad effect on the economy and the poor and downtrodden of the country have suffered most.
It said that hundreds of people died while standing in queues and thousands suffered and the impact of demonetisation has been so bad that lakhs of workers lost their jobs and thousands of small and medium scale industries have shut.
As part of the 'black day' observance, the Congress will organise processions and rallies across the country during the day while carrying placards and banners.
When the clock strikes 8 in the evening, coinciding with the prime minister's announcement last year, candle light processions in every state capital will be taken out to pay homage to those who lost their lives due to demonetisation.
Image: Congress workers stage a protest against the BJP government on the eve of the first anniversary of demonetisation in Mulund, Mumbai. Photograph: PTI Photo