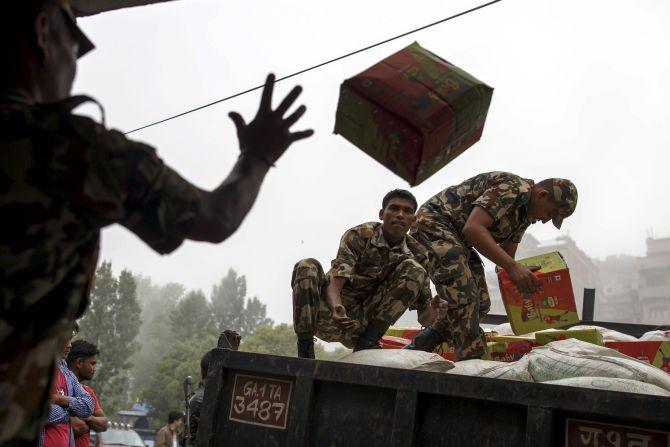 India on Monday said it has put in place a simplified procedure to expedite and facilitate transit clearances of relief supplies to Nepal which is still reeling under the impact of the massive devastation caused by two earthquakes.
The decision came after India received several requests from governments and global relief organisations for facilitating the movement of relief materials to Nepal.
"Government of India examined these requests and it was decided that in order to enable expeditious and smooth clearance of the relief supplies for onward movement to Nepal, a simplified procedure of transit clearance would be put in place by the Central Board of Excise and Customs (CBEC), ministry of finance, government of India," a statement issued by the Indian Embasy in Kathmandu said.
The 7.9 magnitude earthquake on April 25 killed nearly 9,000 people besides displacing thousands others. It was followed by a 7.3-magnitude quake on May 12 and around 260 aftershocks.
Accordingly, CBEC has notified a 'Simplified Transit Procedure' for transit of relief cargo to Nepal, when supplied by foreign governments and multi-lateral relief agencies such as UNWFP, Red Cross and others.
"To facilitate movement of these supplies it has been decided that no Bond, security or bank guarantee, which are normally taken for transit cargo to Nepal, would be obtained for the purpose of transit of relief materials," it said.
The simplified procedure would be applicable to goods destined to Nepal via the Land Customs Stations at Raxaul, Jogbani, Sunauli, Panitanki and Nepalgunj Road.
"The simplified transit procedure would be applicable for six months with the option of being further extended for a period as mutually agreed between the governments of India and Nepal," it said.
While as per the India-Nepal Treaty of Transit, the transit of cargo to Nepal is allowed only through Kolkata or Haldia Ports, transit of relief cargo has been additionally allowed transit by the India government via airports at Delhi, Lucknow, Varanasi, Patna, Kolkata, Bagdogara.
Similarly, cargo in containers can be transshipped to Nepal from the Inland Container Depot at Delhi and Kanpur.
These additional facilities have been made available by the India to facilitate movement of supplies urgently needed by the people affected by the earthquake.
© Copyright 2020 PTI. All rights reserved. Republication or redistribution of PTI content, including by framing or similar means, is expressly prohibited without the prior written consent.