Mahatma Gandhi was on Sunday remembered on his 147th birth anniversary, with President Pranab Mukherjee, Prime Minister Narendra Modi and other leaders paying floral tributes to the Father of the Nation at his memorial in New Delhi.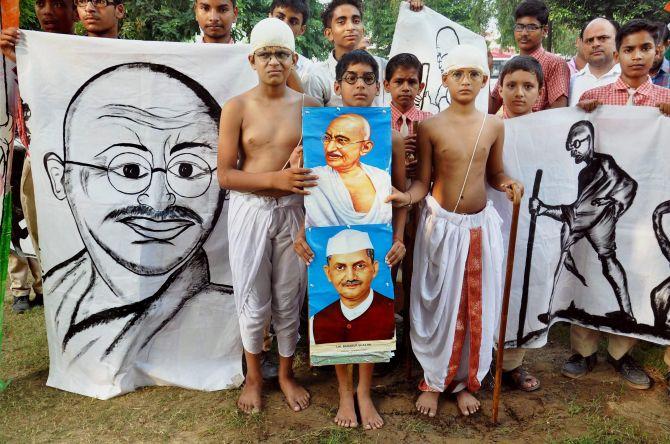 IMAGE: Children take part in a programme to celebrate the birth anniversaries of Mahatma Gandhi and Lal Bahadur Shastri at a school in Moradabad on Sunday. Photograph: PTI
Vice President Hamid Ansari, former Prime Minister Manmohan Singh and senior BJP leader L K Advani also paid tributes to Gandhi.
"Gandhiji made this world a better place. His ideals, dedication to the poor & struggle against injustice inspire," Modi said in a tweet.
Clad in a white kurta and pyjama, Modi, who arrived at Rajghat at 7.40 am, paid homage to the Mahatma by offering rose petals at the memorial and performing a parikrama (circumambulation) around it.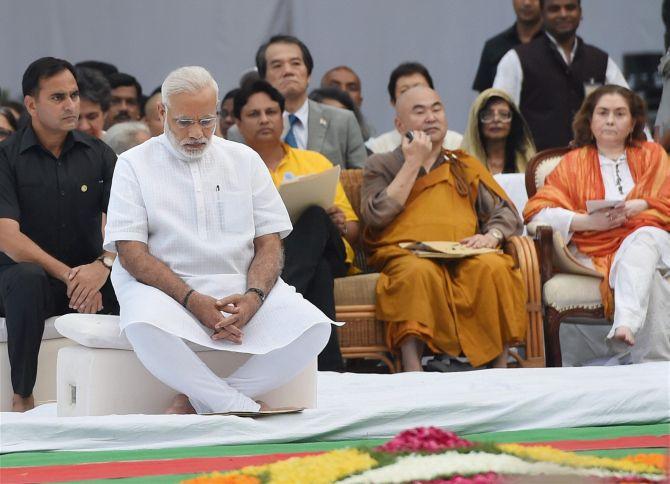 IMAGE: Prime Minister Narendra Modi attends an inter-faith prayer meeting on the occasion of Mahatma Gandhis 147th birth anniversary at Gandhi Smriti in New Delhi on Sunday

.

Photograph: Subhav Shukla/PTI
Union ministers M Venkaiah Naidu and Rao Inderjit Singh, and Congress leader Ghulam Nabi Azad too joined in paying homage to the Gandhi.
Delhi Chief Minister Arvind Kejriwal, who arrived along with his deputy Manish Sisodia, paid tributes to the Mahatma on his birth anniversary.
Mukherjee, Ansari, Modi and Manmohan Singh also paid tributes to former Prime Minister Lal Bahadur Shastri at his samadhi at Vijay Ghat on the occasion of his 112th birth anniversary.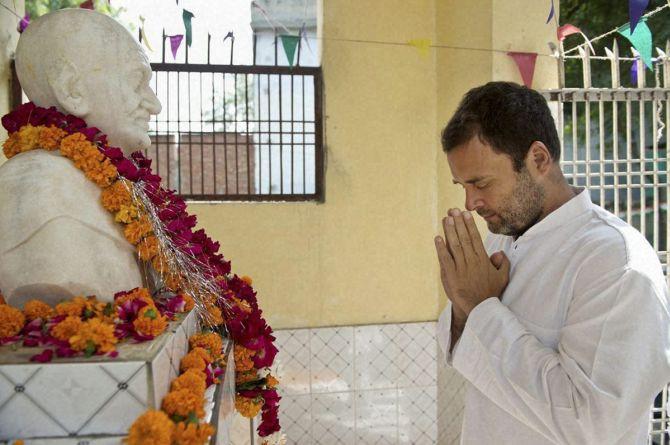 IMAGE: Congress Vice President Rahul Gandhi paying homage to Mahatma Gandhi on his birth anniversary during his Kisan Yatra in Firozabad, Mainpuri on Sunday. Photograph: PTI
Later, Modi led parliamentarians in paying floral tributes to the portraits of Mahatma Gandhi and Lal Bahadur Shastri in the Central Hall of Parliament House.
Among others who paid tributes to Gandhi and Shastri were Deputy Chairman of Rajya Sabha P J Kurien and Advani.
The family members of Shastri also joined the dignitaries in paying tributes to the two leaders.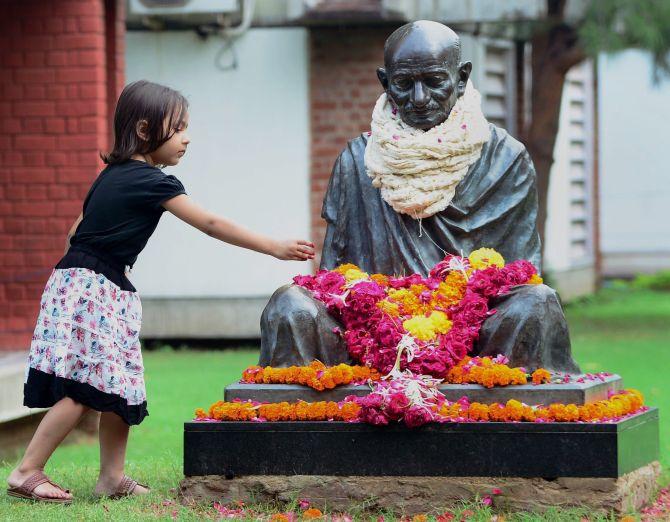 IMAGE: A girl paying tribute to Mahatma Gandhi on the occasion of Gandhi Jayanti at Sabarmati Ashram in Ahmedabad on Sunday. Photograph: PTI
Later, while inaugurating the Pravasi Bharatiya Kendra here, Modi said the birth anniversary of Gandhi and Shastri was an apt occasion for such an event.
He said Mahatma Gandhi had left India, but the call of the nation brought him back. He also inaugurated an exhibition on the Mahatma at the newly-inaugurated building.
In the evening, Modi attended an inter-faith prayer meeting at Gandhi Smriti where he sat among dignitaries and school children and listened to devotional songs.
Opposition leaders were conspicuous by their absence at Gandhi Smriti.