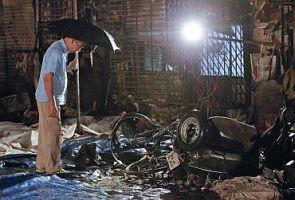 India continued to be one of the most persistently targeted countries by transnational terrorist groups like Lashkar-e-Tayiba, a US report has said, noting New Delhi's concerns about Pakistan-based terror outfits remain the main impediment in normalising Indo-Pak ties.
"While this figure represents a 25 per cent decrease from the previous year, India remained subject to violent terrorist attacks and continued to be one of the most persistently targeted countries by transnational terrorist groups such as Lashkar-e-Taiba (LeT)," the State Department said in its annual Congressional-required Country Reports on Terrorism 2012.
The report said as many as 805 people died last year in India in terrorist attacks.
"Included in the total number of fatalities were the 364 deaths ascribed to left-wing violent extremism, almost 80 per cent of which were Communist Party of India Maoist or Maoist/Naxalite violence, which the Indian government considers its most serious internal security threat. To date, those groups have not specifically targeted US or other international interests," the report said.
In 2012, the State Department said, Indian sources continued to attribute violence and deaths in Jammu and Kashmir to transnational terrorist groups it alleges are backed by Pakistan.
"India and Pakistan attempted to decrease tensions in their bilateral relationship by increasing official dialogue between their two governments, lessening trade restrictions, and relaxing some visa requirements in 2012," it said.
"Continued allegations of violations of the Line of Control between India and Pakistan (the border along Jammu and Kashmir), however, and Indian concerns about Pakistani-based terrorist groups remained impediments to normalising relations," the report said.
Terrorist opponents of better India-Pakistan relations, including LeT and its leader Hafiz Saeed, continued to call for violent attacks against India, it noted.
On New Delhi's counter-terrorism measures, the report said India's efforts to establish a NationalCounter-terrorismCenter were stalled when chief ministers from several states objected to its establishment on the grounds that it infringed upon the states' constitutional rights and responsibilities to maintain law and order.
Earlier 2009 initiatives to establish a National Intelligence Grid, a platform for information-sharing between law enforcement, intelligence services, and other government agencies, and a national crime record database had not been implemented by year's end, but some progress was reported.
The Crime and Criminal Tracking Network and Systems will create a nation-wide environment for the real-time sharing of crime and criminal information, it said.
Image: An official inspects the site of one out of three blasts that rocked Mumbai in July, 2011
Photograph: Reuters
© Copyright 2022 PTI. All rights reserved. Republication or redistribution of PTI content, including by framing or similar means, is expressly prohibited without the prior written consent.