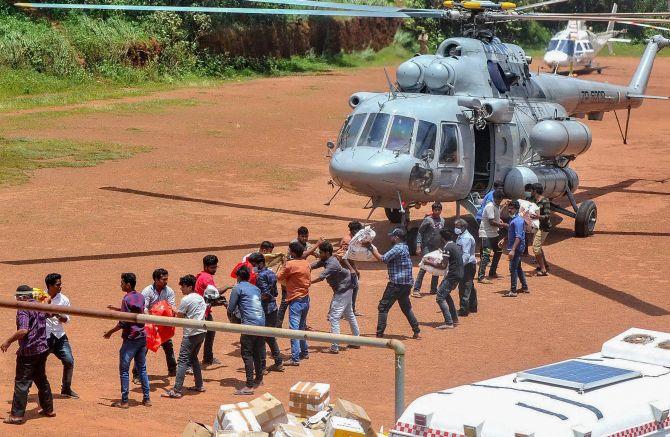 India on Wednesday made it clear that it will not accept any assistance from foreign governments for flood-ravaged Kerala in sync with an existing policy.
External Affairs Ministry Spokesperson Raveesh Kumar said the government was committed to meeting the requirements for relief and rehabilitation in Kerala through domestic efforts.
A number of countries including the United Arab Emirates, Qatar and Maldives have announced assistance for flood relief operations in Kerala.
Kumar, however, said contributions to the Prime Minister's Relief Fund and the Chief Minister's Relief Fund from NRIs (Non Resident Indians, PIOs (Persons of Indian Origin) and international entities such as foundations will be welcomed.
The Kerala government is keen to accept the donations from the UAE.
Chief Minister Pinarayi Vijayan said the state government would approach Prime Minister Narendra Modi to clear hurdles, if any, in receiving the aid offered to the state by the United Arab Emirates.
"The Government of India deeply appreciates offers from several countries, including from foreign governments, to assist in relief and rehabilitation efforts after the tragic floods," Kumar said.
"In line with the existing policy, the government is committed to meeting the requirements for relief and rehabilitation through domestic efforts," he said, in response to a question on the issue.
Sources said funds coming from the UAE through foundations or international entities will be acceptable.
The United Progressive Alliance government, during the Uttarakhand floods in 2013, had decided not to accept assistance from foreign countries.
Sources said India has already conveyed decision of not accepting offer of assistance to Kerala by several countries.
In a tweet, Thailand's Ambassador to India Chutintorn Sam Gongsakdi said Indian government has informed his country that it will not accept overseas donations for flood relief operations in Kerala.
Official sources said New Delhi is conveying to foreign governments that it was carrying out a comprehensive assessment of the damage caused by the floods in Kerala and is capable of meeting the requirements of the state on its own.
India is also informing the foreign governments offering assistance to Kerala that it has taken a considered decision to rely solely on domestic efforts to tide over the challenge.
'Informally informed with regret that GOI is not accepting overseas donations for Kerala flood relief. Our hearts are with you the people of Bharat,' the Thai envoy tweeted.
Earlier, in a letter to Indian Association of Thailand, the envoy said he was in touch with Thai government and Thai companies present in India for extending possible assistance to Kerala.
The sources said there was no restriction on accepting private contributions including from the diaspora.
The UAE offered the assistance of Rs 700 crore considering its links with Kerala. Around three million Indians live and work in the UAE out of which 80 per cent are from Kerala, according to official figure.