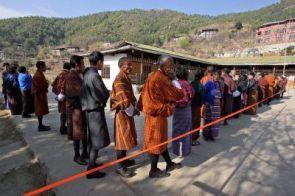 India has provided 1,935 electronic voting machines to Bhutan for the country's second national elections to be held on Saturday.
Bhutan has a tri-cameral parliament of the King, National Council and the National Assembly. There are 25 seats in the National Council or upper house. Five of them are appointed by the King and 20 elected from 20 districts.
National Assembly or lower house consists of 47 members elected from 47 constituencies. Representatives to both houses were elected first in 2008.
Druk Phuensum Tshogpa is the ruling party in Bhutan while major opposition party is the People's Democratic Party.
There are 94 candidates for 47 constituencies where the polling will be held.
There are 3,81,790 registered voters and 80,000 postal voters. Of these, 187,917 are female voters.
About 10,000 officers, including security personnel are to be deployed for conducting free and fair polling.
There are 850 polling stations, including 215 temporary polling stations.
Bhutan has also invited Chief Election Commissioner V S Sampath as the lone observer for the elections.
Sampath, who arrived here today, said all 1,935 electronic voting machines being used in the polls have been given by the Election Commission of India.
"It is heartening to see democracy growing in Bhutan," he told PTI.
Sampath is the only Chief Election Commissioner who has been invited by Bhutan Election Commissioner to witness the election process.