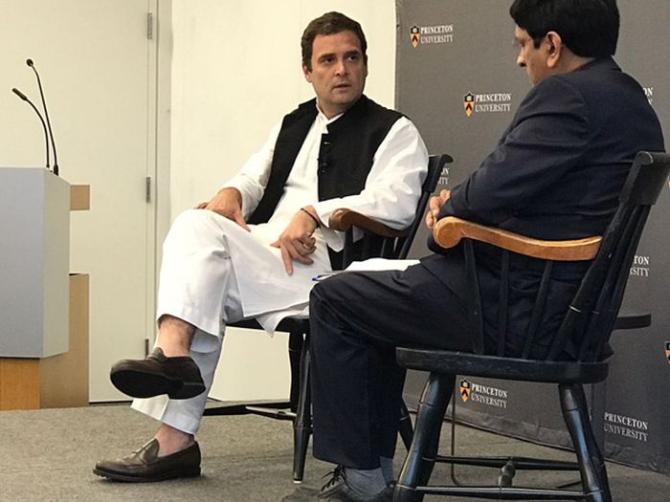 The people around the world are electing leaders like Narendra Modi and Donald Trump due to frustration over growing unemployment, Congress vice president Rahul Gandhi said on Wednesday while acknowledging that his party lost the 2014 polls as it failed to create enough jobs.
Gandhi, 47, who is in the US on a two-week-long tour, during his interaction with students at the prestigious Princeton University said employment was an all-encompassing means to empower, enfranchise and involve Indians in the nation building process.
"I think, the central reason why Mr Modi rose and to an extent why Mr Trump came, is the question of jobs in India and in the United States. There's a large part of our populations that simply do not have jobs and cannot see a future. And, so they are feeling pain. And they have supported these type of leaders," Gandhi said.
He said the another problem is that nobody was recognising that unemployment was a problem.
"I do not know Trump. I don't go there. But, certainly our prime minister is not doing enough (in creating jobs)," said the Congress leader.
Gandhi has repeatedly raised the issue of joblessness during his meetings with experts, business leaders and Congressmen in the US.
"Currently, we are not producing enough jobs. 30,000 new youngsters are joining the job market every single day and yet the government is only creating 500 jobs a day. And this doesn't include the massive pool of already unemployed youngsters," Gandhi had said in his earlier address at the University of California in Berkeley.
At Princeton, Gandhi said India needed to transform itself to compete with China and for that the people in the country required jobs.
"Those same people who got angry with us because we couldn't deliver on those 30,000 jobs (a day) are going to get angry with Mr Modi. The central question is resolving that problem. My main issue with Mr Modi is that he diverts that issue and points the finger somewhere else instead of saying listen we have a problem," he said.
"There is anger building up in India right now. We can sense it. So to me the challenge is how to solve that job growth problem in a democratic environment. That's the challenge," he said.
"So we have to first accept it as a problem. Then we have to unite and try to solve it. Right now, nobody is even accepting it as a problem," he argued.
Focusing a major part of his question and answer session at Princeton on jobs, Gandhi asserted that new technologies and modernisation are unlikely to kill jobs.
"The nature of what we call it a blue collar job is going to change. But the question is who is going to have those jobs and which countries are going to have access to those jobs," he said.
He also raised the issue of polarisation in India. He said that the politics of polarisation was central challenge in India and some sections of the society, including the minority communities and tribal people, do not feel a part of the ruling Bharatiya Janata Party's vision.
"In the 21st century, if you leave some people out of your vision, you are asking for trouble. New ideas would come, new different visions would develop. So, to me, central challenge in India is politics of polarisation where you pit one community against other and you create spaces for other people to come in," Gandhi said.
"There is a belt of 100 million tribal people who do not feel comfortable with the vision (of the BJP). There are a number of states in India, which don't want a single vision forced down their throat. There are minority communities, they do not feel that they are the part of the vision. So that's where the real danger is," Gandhi said in response to a question.
India's strength has always been its ability to embrace people, he said.
Disruption of harmony 'is the central risk that India is facing', he said.
"India lives in a volatile neighbourhood. And if we alienate our own people, that creates space for people to do mischief. I do not need to name who those people are, but it opens up space for them," Gandhi said.
"Leaving hundreds of millions of people outside that vision is not a good idea, because other people will start to create problems," Gandhi said.
Responding to a question on uniform civil code, Gandhi said it is for the court to decide.
"I have faith in the courts of our country," he said.
If he was given the reins of the Congress party, Gandhi said a large part of his work would be to create a new vision of India for the next 10 years.
That vision, he said, would focus on how to solve the job problem. It will also focus on agriculture, education and healthcare.
'India, China will reshape world despite their different development paths'
India and China will fundamentally reshape the world though the two Asian giants have chosen different paths of development, Gandhi said.
He said 'cooperation and competition' was a part of the relations between the two most populous countries of the world.
"There are two large migrations taking place –- one is completely free and the other is centrally controlled. The systems respond differently. India and China are two huge countries that are transforming from agricultural countries to urban modern model countries. And that's a huge chunk of the world population," Gandhi said.
"And how these two countries do is going to fundamentally reshape the world. It's not for me to say that China should be democratic or not. They have chosen their path and we have chosen ours," he said.
Gandhi said India was not doing well when it comes to competing with China.
"We have to figure out how to get our jobs. We have to basically compete with China," he said, adding 'frankly India is not doing that well'.
China, he said, was entering new spheres with the One Belt, One Road (OBOR) initiative, under which Beijing plans to connect Asia with Europe through ports, roads and rail networks.
"And China has a particular vision of the world. It's very clear. And from their perspective it's a very powerful vision," Gandhi said.
"Does India has a similar vision? What does that vision look like? How much cooperation is going to be between us and them? These are basically the fundamental questions going forward. But the thing to realise is that China is moving with tremendous power and we have to work with that," he said.
On India's ties with the United States, Gandhi said there was a lot of space for cooperation between the two nations in the creation of jobs and in the education sector.
"So I think a lot of synergy between the two countries. Also historically India has maintained balance (in relationship). So India has had a relationship with China and has had a relationship with Russia. To me the strategic relationship with the United States is important," he said.
The scion of the Nehru-Gandhi family underscored the need for a balance (of relationship) in terms of all the other countries.
"But balance is also important in terms of all the other countries. So I would say there is a a slight difference between us and the government," Gandhi said in response to a question.
IMAGE: Congress vice president Rahul Gandhi interacts with students at the Princeton University on Wednesday. Photograph: ANI
© Copyright 2021 PTI. All rights reserved. Republication or redistribution of PTI content, including by framing or similar means, is expressly prohibited without the prior written consent.