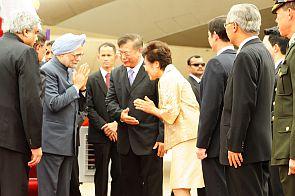 Rediff.com's Vipin Vijayan, who is travelling with Prime Minister Manmohan Singh to Thailand, reports on the seven treaties signed between New Delhi and Bangkok on Thursday.

India and Thailand on Thursday signed on seven agreements, including the all important extradition treaty between the two countries. Here's a quick look at the seven treaties:
Treaty #1
The extradition treaty, signed by Foreign Minister Salman Khurshid and his Thai counterpart and Deputy Prime Minister Surapong Tovichakchaikul, provides the legal framework for seeking extradition of fugitive offenders, including those involved in terrorism, transnational crimes, economic offences, etc.

The treaty provides for the extradition of any person who is wanted for trial or for the imposition or enforcement of a sentence by one contracting state and is found in the territory of the other contracting state.

The treaty will help both the countries in expediting extradition of fugitives.

This treaty would further strengthen the relationship between two law enforcement agencies by providing a firm legal basis for their bilateral cooperation.
Treaty # 2: Establishing an India-Thailand Exchange Programme

The India-Thailand Exchange Programme will foster bilateral relations through the enhancement of economic, scientific, educational, technical and cultural cooperation and the promotion of greater understanding between the people of the two countries.

Cooperative activities in the fields of education and culture through exchange of scholars, academicians, professionals; organising seminars, workshops; extending financial support to non-governmental organisations; publication of standard works on Thailand-India relations; translations of standard works of Thai literature into Indian languages, will be promoted.

Treaty # 3: Ratification of treaty on transfer of sentenced persons

The bilateral treaty on transfer of sentenced persons, signed on January 25, 2012 when Thailand Prime Minister Yingluk Shinawatra was in New Delhi as the Republic Day chief guest, has been ratified by both the sides.

The treaty provides the opportunity to foreign nationals, who have been convicted and sentenced on a criminal offence, to serve their sentence in their own country and facilitates their social rehabilitation into their own countries.

Treaty # 4: MoU on Mapping and Geospatial Technology Applications

The objective of memorandum of understanding between the Geo-Informatics and Space Technology Development Agency and Survey of India is to promote bilateral cooperation in the field of space technology.
The MoU seeks to share and demonstrate capabilities and expertise gained by the Survey of India in Urban Mapping by undertaking a survey of a chosen town of area about 100 sq km, in Thailand, and for imparting training in surveying and mapping techniques to five officials of GISTDA each year at the Indian Institute of Surveying and Mapping at Hyderabad.

Treaty # 5: Second MoU on Mapping and Geospatial Technology Applications

The agreement involving India's National Atlas and Thematic Organisation and the Thai GISTDA

The objective of the project is to publish an Archeological Atlas, in book and digital form, jointly by NATMO and GISTDA with thematic plates using high-resolution satellite data and geospatial technologies, to highlight the spread of Buddhism from India to the South-East Asia, on the occasions of Her Royal Highness Princess Mahachakri Sirindhon Birthday Anniversary in 2015 and the ASEAN Economic Community in 2015.

The proposed project will include India and participating ASEAN countries.

Treaty # 6: MoU between Financial Intelligence Unit, India and Anti Money Laundering Organisation, Thailand on Cooperation in the exchange of Intelligence related to Money Laundering and Terrorism Financing
This MoU facilitate cooperation in the investigation of persons suspected of money laundering and criminal activity related to money laundering and terrorism financing.
The MoU seeks to assemble, develop, analyse and exchange information on such issues.

Treaty # 7: MOU between Indian Council for Cultural Relations and Thammasat University on the establishment of the ICCR Hindi Chair of Indian Studies (Hindi Language).

The objective of MoU is to establish the ICCR Chair for Hindi Language at the Thammasat University.

This Chair will offer a Bachelor of Arts programme in Indian Studies for the first time in Thailand.
Image: Prime Minister Manmohan Singh being received by Thai dignitaries upon his arrival in Bangkok earlier on Thursday
Photograph Courtesy: PIB