Making an exception, Japan on Friday signed a historic civil nuclear cooperation deal with India, opening the door for collaboration between their industries in the field even as the countries signed nine other agreements in various areas to bolster bilateral ties.
The agreements, including the one for cooperation in peaceful uses of nuclear energy, marks a historic step in their engagement to build a clean energy partnership, Prime Minister Narendra Modi said after wide-ranging talks with his Japanese counterpart Shinzo Abe.
The nuclear agreement comes after tough negotiations for over six years between the two countries and Abe said at the joint media interaction with Modi that he was delighted over the signing of agreement on peaceful use of nuclear energy.
"This agreement is a legal framework that India will act responsibly in peaceful uses of nuclear energy and also in Non-Proliferation regime even though India is not a participant or signatory of NPT," he said.
"It (the agreement) is in line with Japan's ambition to create a world without nuclear weapons," said Abe, whose country has traditionally adopted a tough stand on proliferation issues having been the only victim of atomic bombings during World War II.
He noted that India in September 2008 had made its intention of peaceful uses of nuclear energy and also announced moratorium on nuclear tests.
"Today's signing of the Agreement for Cooperation in Peaceful Uses of Nuclear Energy marks a historic step in our engagement to build a clean energy partnership," Modi said.
"Our cooperation in this field will help us combat the challenge of Climate Change. I also acknowledge the special significance that such an agreement has for Japan," he said and thanked Abe, Japanese government and Parliament for their support to this agreement.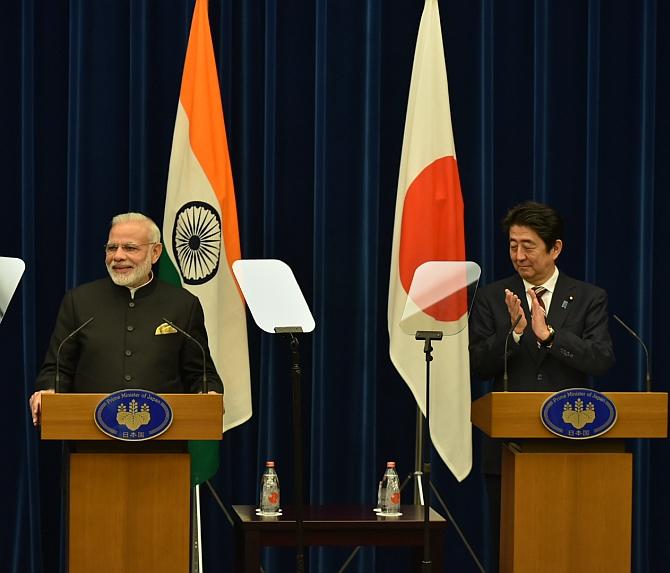 Other nations who have signed civil nuclear deal with India include the US, Russia, South Korea, Mongolia, France, Namibia, Argentina, Canada, Kazakhstan and Australia.
In his remarks, Prime Minister Modi said as democracies, the two countries "support openness, transparency and the rule of law".
"We are also united in our resolve to combat the menace of terrorism, especially cross-border terrorism," he said.
Later, speaking at a Banquet hosted by Abe in his honour, Modi said there is also a lot that the two sides can do together as close partners, not just for the benefit of their societies, but also for the region and the whole world.
"Our capacities could also combine to respond to both, the opportunities and challenges that we jointly face in present times. And, together with the global community we can, and we must, combat the rising threats of radicalisation, extremism and terrorism," he said.
Abe pushed for universalization of the NPT, entry into force of Comprehensive Nuclear-Test-Ban Treaty and start of negotiations at the earliest on Fissile Material Cutoff Treaty.
"The two prime ministers welcomed the signing of the Agreement between the Government of Japan and the Government of the Republic of India for Cooperation in the Peaceful Uses of Nuclear Energy which reflects a new level of mutual confidence and strategic partnership in the cause of clean energy, economic development and a peaceful and secure world," said a joint statement.
Modi said deeper economic engagement, growth of trade, manufacturing and investment ties, focus on clean energy, partnership to secure the citizens, and cooperation on infrastructure and skill development are among key priorities.
"India and its economy are pursuing many transformations. Our aim is to become a major centre for manufacturing, investments and for the 21st century knowledge industries.
"And, in this journey, we see Japan as a natural partner. We believe there is vast scope to combine our relative advantages, whether of capital, technology or human resources, to work for mutual benefit," he said in his joint interaction.
The prime minister said that the strategic partnership between the two countries also brings peace, stability and balance to the region. It is alive and responsive to emerging opportunities and challenges in Asia-Pacific, he said.
The successful Malabar naval exercise has underscored the convergence in the two sides' strategic interests in the broad expanse of the waters of the Indo-Pacific, Modi said.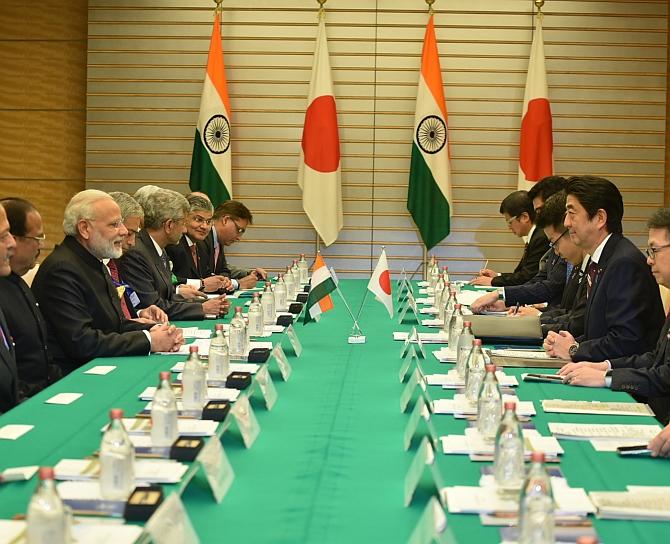 On his part, Abe mentioned the high speed train corridor between Mumbai and Ahmedabad that is being built with the help of Japan, saying the project symbolizes a new dimension in the special relations.
Prime Minister Abe said the designing of the project will begin by the end of this year, construction will begin in 2018 and the high speed train will be in service from 2023.
He said Modi, who will travel by one such train to Kobe city on Saturday from Tokyo, will see for himself that it is the safest technology in the world.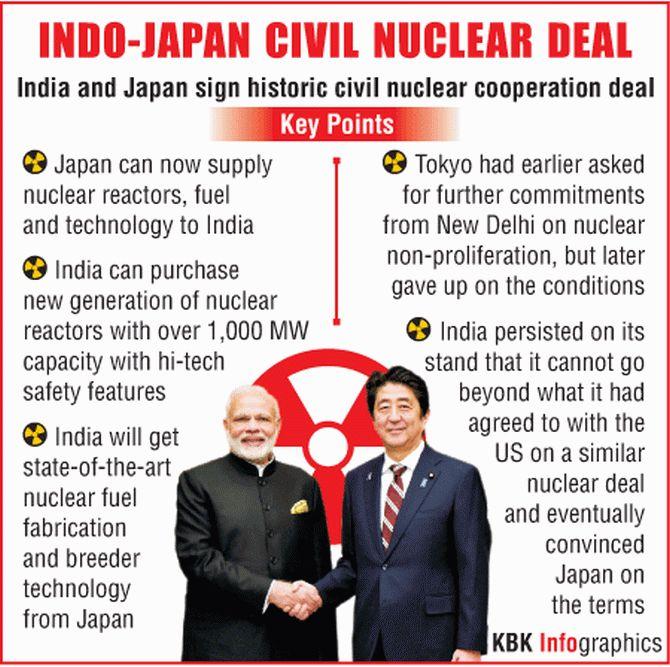 The Japanese private sector also would be setting up an institute of manufacturing in India to train about 30,000 people in 10 years, particularly in rural areas, Abe said.
Abe said Japan will set up a tourism bureau in New Delhi to encourage people-to-people contacts. He said he wants to work with Modi in liberalizing the visa rules.
"India-Japan relations have the greatest potential in the world. Strong India is in the best interest of Japan and strong Japan is in the best interest of India," Abe said.
Noting that he had met Modi for the third time in one year, Abe praised him, saying he had a "global vision" and was a "decisive leader".
Photographs: Ministry of External Affairs