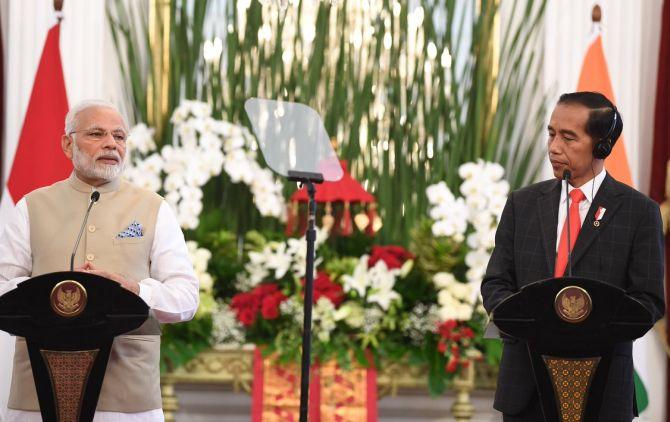 India and Indonesia on Wednesday elevated their bilateral ties to Comprehensive Strategic Partnership and called for freedom of navigation in the Indo-Pacific region as they signed 15 agreements including one on defence cooperation after Prime Minister Narendra Modi held 'productive discussions' with President Joko Widodo.
Prime Minister Modi, who arrived in Jakarta on Tuesday night on his first-ever official visit to Indonesia, was accorded a red carpet welcome on his arrival at the Merdeka palace, one of the presidential palaces in Indonesia, on Wednesday morning.
The meeting commenced with a tete-a-tete between the two leaders, followed by the delegation-level talks. They discussed areas of strategic cooperation, ways towards ensuring better economic ties, closer cultural relations as well as regional and global issues of mutual interest.
'Held productive discussions with President Joko Widodo. Glad that ties between India and Indonesia are gaining strong momentum. We discussed areas of strategic cooperation, ways towards ensuring better economic ties and closer cultural relations between our nations,' Modi tweeted.
In a joint press statement after the meeting, Modi said India and Indonesia have agreed to elevate their ties to Comprehensive Strategic Partnership.
He said that India's Act East Policy and the vision of SAGAR (Security and Growth for all in the Region) matches Widodo's Maritime Fulcrum Vision.
"As mutual partners and neighbours, our worries are similar. It is our duty to ensure maritime security and safety. This is also for the safety of our economic interests," he said.
"In the Indo-Pacific region, we, as partners, have mutual interests in each other's progress and well-being and that's why we have agreed upon mutual vision and principles for the Indo-Pacific region," he said.
Modi also strongly condemned the recent terror strikes on three churches in Indonesia's second-largest city Surabaya, and said India stands resolutely with Jakarta in the fight against terrorism.
A joint statement issued later said the two leaders reiterated their strong condemnation of terrorism in all its forms and manifestations including cross-border terrorism and terror-related incidents in Indonesia and India and affirmed that perpetrators of these heinous acts must be brought to justice.
They called upon all countries to work towards disrupting terrorist networks and their financing channels, and halting cross-border movement of terrorists from terror organisations as well as other terrorist groups threatening peace and security in respective region, the statement said.
They also shared the view on the imperative need to eradicate radicalism and reiterated the importance of promoting peaceful pluralism.
The two countries signed 15 agreements including on the cooperation in the field of defence, space, science and technology, railways and health.
Modi said that India and Indonesia will double their efforts to take bilateral trade to $50 billion by 2025.
Recalling the visit of ASEAN (Association of Southeast Asian Nations) leaders in January to attend the Republic Day parade in New Delhi, Modi said India-ASEAN partnership can become a guarantee of peace not only in Indo-Pacific region but also beyond it.
Both leaders reiterated the importance of achieving a peaceful and prosperous Indo-Pacific region where sovereignty, international law, freedom of navigation and overflight, sustainable development and an open and fair trade and investment system are respected, the statement said.
It said the two leaders welcomed the adoption of the 'Shared Vision on Maritime Cooperation in the Indo-Pacific between India and Indonesia' with a strong belief that the two sides could develop further cooperation in maritime which can be a force of immense stability in the region.
The two countries stressed the importance of a free, open, transparent, rules-based and peaceful Indo-Pacific region, amidst China flexing its military muscles in the strategic East and South China seas.
The document, the first with any ASEAN country, outlines areas of maritime cooperation and envisages security architecture in the Indo-Pacific region, Ministry of External Affairs spokesperson Raveesh Kumar said.
Noting that with a coastline of 7,500 km, India occupies a central position in the Indo-Pacific, while Indonesia as the largest archipelagic state in the world, with a coastline of 1,08,000 km, is a fulcrum that connects the Indian Ocean and Pacific Ocean.
The two oceans represent a combined maritime region which is important for global maritime trade and commerce, the document said.
It highlighted the importance to adhering to the rights and obligations under the international law including the Charter of the United Nations, the 1982 UN Convention on the Law of Sea (UNCLOS) and the 1976 Treaty of Amity and Cooperation in Southeast Asia (TAC).
'The two leaders welcomed the growing convergence in the political, strategic, defence, security and economic fields between the two countries,' the statement said.
They reaffirmed their commitment in the field of defence, with the signing of Defence Cooperation Agreement between two sides. The pact will further strengthen and renew the existing cooperation for the mutual benefit of the two countries and the region, the statement said.
They agreed to further enhance mutual trust through regular meetings and staff talks between their armies, navies and air forces. They also directed officials to expand mutually beneficial collaboration between their defence industries for joint production of equipment, technology transfer, technical assistance and capacity building as well as sourcing of defence equipment.
They reiterated the shared commitment to enhance liaison between the intelligence and law enforcement agencies of both countries.
Both sides agreed to work intensively for the early conclusion of the Regional Comprehensive Economic Partnership and reiterated that it needs to be comprehensive, fair and balanced with benefit to all member states.
They welcomed potential cooperation in the area of peaceful use of nuclear energy and looked forward to the early renewal of an agreement on cooperation regarding the utilisation of nuclear energy for peaceful purposes.
Both sides agreed to intensify cooperation in the fields of culture, education, tourism, films and people-to-people exchanges.
Modi extended advance Eid greetings to the Indonesian people, saying, "On behalf of India's 1.25 billion people, I wish you prosperity, good health and great success."
Indonesia is the world's most populous Muslim-majority country.
PM Modi also announced a 30-day free visa for Indonesian citizens and invited the diaspora to travel to their country of origin to experience the 'New India'.
Addressing a gathering of the Indian diaspora at the Jakarta Convention Centre, Modi said, "Not only do the names of our nations rhyme but also there is a distinct rhythm in the India-Indonesia friendship."
"We will grant free of cost visa for Indonesian citizens for travel of up to 30 days," Modi said, amid applause.
"Many of you may never have been to India. I invite you all to come to India for the Kumbh in Prayag (Allahabad) next year," Modi told the gathering.
He said this mega event would be a new experience for the visitors who will not only realise India's ancient culture but also get a glimpse of 'New India'.
Kumbh Mela is one of the largest human congregations on the Earth.
Modi requested the Indian diaspora to make a habit of visiting their country of origin with friends and experience how India has been changing.
Taking a dig at the previous governments, Modi said his government's first priority was to make India corruption free, citizen-centric and development friendly.
"Our government, has been preparing India according to the need and expectations of the 21st century," he said.
"We have gone a step ahead of 'Ease of Doing Business.' Our focus is 'Ease of Living.' Our processes are transparent and sensitive," Modi said.
"We have to make a 'New India'. We have to start working to realise the dream of New India by 2022, when India will celebrate 75 years of her independence," Modi added.
In the last two-and-a-half years, more than 9,000 start-ups have been registered in India, he said, adding that the world's second largest start-up ecosystem is built in India.
"And my friends living in Indonesia, these are happening, laws are the same, officers are the same, offices are the same, tables and chairs are the same, only the government has changed and the country is changing," Modi said.
"If the policy is clear and intension pure, then development has to happen which we have shown," he asserted.
He lauded the people of Bali and Surabaya for rescuing thousands of Indian tourists stranded in these two places at the time of volcano eruption last year and making arrangements for their safe return.
"For this human act, I praise you with all my heart and I thank you. Showing such gestures of human values have been an integral part of India. We are living this with the same spirit in India," Modi said.
Be it an earthquake in Nepal or flood in Sri Lanka, India has been recognised as one of the countries which always come forward at the time of calamity, he said.
"There is a sensitive government in New Delhi which does not see the colour of the passport. For us, an Indian is important. And in times of calamities, in the last four years in different places, we have rescued and brought back more than 90,000 people without seeing the colour of their passports," Modi said.
Modi also visited the Arjuna Wijaya Chariot statue, one of the iconic monuments in the heart of Jakarta. He was accompanied by Widodo during the visit.
'Located in Central Jakarta, the Arjuna Wijaya Chariot statue is a vibrant testimony of the deep-rooted cultural relations between India and Indonesia. Delighted to have visited the statue with President Widodo,' Modi tweeted.
'A manifestation of our age-old cultural ties! PM @narendramodi and Indonesian President @jokowi at Arjuna Wijaya Chariot statue in the heart of the city,' Raveesh Kumar tweeted with a picture of the two leaders shaking hands.
The imposing monument depicts a scene from the Indian epic Mahabharata where Lord Krishna is riding a chariot with Arjuna holding a bow and arrow and the chariot is being pulled by eight golloping horses.
The horses as per Javenese tradition symbolise eight philosophies of leadership called Asta Brata, namely, Kisma (Earth), Surya (Sun), Agni (fire), Kartika (stars), Baruna (ocean), Samirana (wind), Tirta (rain) and Candra (month).
Built in 1987, the statue, standing just next to Monas which is the National Monument of Indonesia, is one of the most famous tourist attractions in Jakarta, especially among visitors coming from India.
It is a testimony to the deep civilisational link with India and cultural reach and influence of Mahabharata in Indonesia.
The two leaders also flew kites as they inaugurated the first joint kite exhibition themed on India's largest epics Ramayana and Mahabharata at Jakarta's National Monument.
'Connecting through heritage...President @jokowi and I unveiled a unique kite exhibition. The kites in the exhibits were themed on the Ramayana and the Mahabharata,' Modi tweeted.
'MoU was inked between the Layang-layang Museum of Jakarta & Kite Museum of Ahmedabad, which will boost cultural ties,' he said.
The exhibition is themed on Hindu mythology epics of Ramayana and Mahabharata with images on kites of Lord Rama killing his rival Ravana and of demons.
The Ramayana theme is designed by Indonesian organisers while the Mahabharata theme has been designed by Indians.
'Cultural connect touching the skies! Ramayana themed joint kite exhibit unveiled...Ahmedabad and Jakarta Kite Museums exchange MoU,' Raveesh Kumar said in a tweet.
'PM @narendramodi and Indonesian President @jokowi together taking the relationship to new heights!' he tweeted along with a picture of both the leaders flying their kites at the exhibition.
The leaders welcomed the conclusion of the MoU between Layang-layang Museum Jakarta and Kite Museum of Ahmadabad and noted with appreciation the holding of the First Joint Kite Exhibition on the theme of Ramayana and Mahabharat at National Monument in Jakarta, Ministry of External Affairs said in a statement.
The leaders also agreed to organise an interfaith dialogue in Indonesia in early October 2018, which will be followed by a similar dialogue in India next year to promote pluralism and eradicate radicalism.
They shared the view on the imperative need to eradicate radicalism and reiterated the importance of promoting peaceful pluralism that would lead to true civilisation harmony, and moderation through a holistic approach, said a joint statement issued after their meeting.
'Interfaith dialogue is a reflection of the united commitment of both countries to explore a new understanding on the rise of religious identities, the dynamic of pluralism and to eradicate radicalism, terrorism, and violent extremism,' it added.
Indonesian singer enthrals PM with 'Sabarmati ke Sant' at banquet
Indonesian singer Fryda Lucyana on Wednesday enthralled Modi and other guests with her rendition of popular Hindi song 'Sabarmati ke Sant' at a banquet hosted by Widodo.
Accompanied by musicians playing traditional Indonesian instruments, the singer presented her rendition of the song from the 1954 film Jagriti dedicated to Mahatma Gandhi, who espoused non-violence.
'A wonderful rendition of 'Sabarmati Ke Sant Tune Kar Diya Kamal' sung by Fryda Lucyana at the banquet hosted by President @jokowi for PM @narendramodi,' the Prime Minister's Office tweeted.