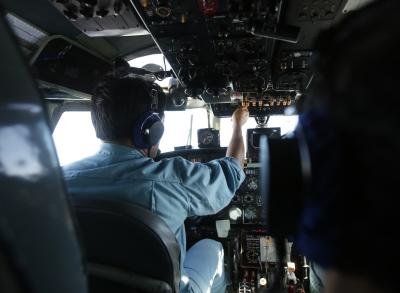 The search for the missing Malaysian airliner under India's 'Operation Searchlight' has been expended to the Bay of Bengal area 900km west of Port Blair by the navy, the defence ministry said on Friday.
"The Malaysian authorities have requested for a search in the Bay of Bengal, expanse of which is around 9,000 sq km. This area is approximately 900 km due West of Port Blair. Search in this area would be undertaken by the resources of the eastern naval command," a defence ministry release said.
The joint operations room at Port Blair has been activated to monitor the progress of the search operations, which entered the seventh day, it said.
India has deployed five warships, including INS Kumbhir, INS Kesari and INS Saryu along with Coast Guard ships ICGS Sagar and ICGS Kanaklata Baruah along with the P-8I and C-130J surveillance aircraft in a bid to trace the missing Malaysian plane.
Coast Guard's ICGS Sagar will join the search in next three-four days after sailing from Brunei.
The Dornier surveillance aircraft are undertaking sorties continuously and two of them are at anytime airborne under the operations, they said.
The navy has been nominated as the lead service for the coordination of the operation. The defence ministry said specific areas have been allocated by the Malaysian authorities for search by Indian ships and aircraft.
The Commander-in-Chief Andaman and Nicobar Command Air Marshal P K Roy has been nominated as the overall force commander of the forces. The navy is understood to be using its Rukmini surveillance satellite for locating the missing plane.
The Beijing-bound Malaysia Airlines Boeing-777 plane, with 239 people including five Indians on board, vanished over the South China Sea on Friday an hour after taking off from Kuala Lumpur.
Search and rescue operations, which had been mobilised since early last Saturday, have failed to find the jetliner in the South China Sea and authorities have expanded the area of search into the Andaman Sea.

Image: Military officer and pilot Hoang Van Phong works within cockpit of a Vietnam Air Force AN-26 aircraft during a mission to find the missing Malaysia Airlines flight MH370
Photographer: Kham/Reuters