With a medal, a commemoration letter and a pat of encouragement on their shoulders, President Pranab Mukherjee on Friday handed the National Child Award for Exceptional Achievement to 20 talented and brave children on the occasion of Children's Day.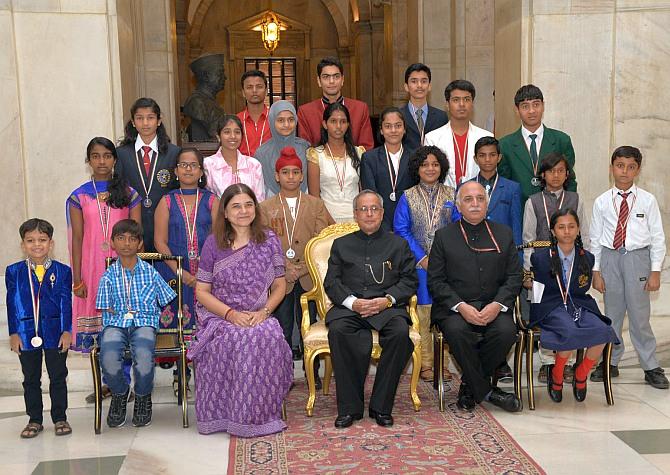 Among the awardees at the function which was held in the historic Darbar Hall of Rashtrapati Bhavan were a five-year-old magician and a 12-year-old special child who paints with his feet along with a 15-year-old innovator and a nine-year-old mountaineer.
Mukherjee could not stop his smile when the youngest among the recipients -- five-year-old Satvik Nayak C, dressed in a blue jacket, approached to receive the award.
Even the audience got up for a look of the young magician, who performs his shows to promote social causes, as he received the award for "excellence in the field of Culture and Social Service".
In a brief interaction, Nayak said he wants to promote sanitation through his shows.
When, on the sidelines of the event, Union Minister for Women and Child Development Maneka Gandhi asked him to perform a magic trick, Nayak did a small presentation on the Prime Minister's cleanliness drive.
A 14-year-old Kannada actor, Anil Kumar V, who acted in the prize-winning film Nanna Gopal in Kannada, was also among the recipients of the prestigious annual award.
Another awardee, Aryan Balaji, is all of nine years old and has scaled Mount Kilimanjaro -- the highest peak in Africa -- besides becoming, in 2012, the youngest to reach the Mount Everest Base camp at an elevation of 5,364-m. He has not limited himself only to adventure but has also run a polio eradication campaign in schools in Nepal and acted in movies.
He received the award for excellence in Sports, Adventure and Acting.
For turning his weakness into strength and painting using his feet, 12-year-old L Anjiniah from Bengaluru, a 12-year-old special child whose upper limbs are under developed, was among the awardees this year.
"His paintings are as as good as done by professional artists. He is very popular in Bengaluru because of his paintings," read Anjiniah's citation.
The story of Nishtha Jain from Delhi is similar to that of Anjiniah's.
Congenital absence of both the upper limbs did not deter Nishtha from pursuing her hobbies of dancing, singing and drawing. Using her feet to write, she not only excels in the classroom but has also participated in folk dance competitions at the state and national level.
Winner of a contest organised by Massachusetts Institute of Technology, 14-year-old S Arjun is a whiz kid who started playing with computers when he was two years old.
Awarded for his exceptional achievement in the field of Computer Technology, Arjun has also won two MIT contests in consecutive years in 2012 and 2013.
A magician of numbers, 12-year-old Rashid from Uttar Pradesh was awarded for his exceptional achievement in the field of Academics. Rashid is in the Limca Book of Records for solving complex mathematical problems using only his mind.
For exceptional achievement in the field of Music, Taksheel Buddhadeo received his award from the President after having successfully completed seven music examinations from eminent institutions at the age of 12 years.
He has taken part in more than 100 pre-recorded programmes in classical music, cooking, environment, instrumental music and found a place in the India book of Records.
S Vinod Kannan is a 13-year old Yoga proponent who won a number of competitions and was awarded today for exceptional contribution in the field.
Sanjay Virmani, 14 years of age, used his innovation skills to solve the problem of removing humidity from paddy in Punjab by creating a novel device which is being patented.
Another awardee, Masirabi Hanif Patel, is a serial innovator with 24 innovations under her belt with one of them being patented by the Government of India. She developed a unique air conditioning system for two-wheelers.
Also receiving the award in the field of innovation was Sharadhi Shetty, who has developed a rain sensor to prevent clothes from getting wet.
Saina Solonika is a World Chess champion in the under-10 category. She has won a number of international competitions and received the award for her achievement in the field of sports.
Abeer Vaishnav was selected for the show, 'Voice of India', when he was seven. Today, aged 15, Vaishnav has lent his voice as a playback singer in a number of advertisement jingles and programmes. He was awarded for achievement in Music.
Syeda Sumaiya and Palak are Karate Champions who have won a number of international competitions. They were awarded for exceptional achievement in the field of sports.
Parvathy Krishnan is solving problems of coconut cultivators at the age of 14 years. Her project on problems faced by coconut cultivators drew attention of policy makers. She was awarded today for her contribution in Agriculture.
Abhishek, saved the life of a three-year- old who fell into an open manhole, when he was aged 10 years. Now 14, he received award in the field of social service.
Gurnoor Singh is a skating champion at 11 years of age while Aishwarya Ramachandran is a Carnatic Music Singer. They were awarded for achievements in their respective fields.
The President also handed out National Awards for Child Welfare, 2013. Organisations which won the award include Gram Vikas Parishad of Assam, AW Thomas Girls Home from Shillong, Disable Welfare Trust of India from Gujarat and Samarthanam Trust for the Disabled from Bengaluru.
Individuals given the award included Mahesh Kumar from Karnataka, K Pramod from Kerala and Sunkara Venkata Adinarayana Rao from Andhra Pradesh.
The President also gave the Rajiv Gandhi Manav Seva Award for service to Children to Ganga Changappa from Karnataka, Vajinder Singh from Punjab and Priyo Lall from Uttarakhand.

Image: President Pranab Mukherjee with the recipients of National Child Awards to Children for Exceptional Achievements 2014 at Rashtrapati Bhavan

Photograph: Press Information Bureau