The Biden administration has decided to play the long game by inviting Prime Minister Narendra Modi on an official state visit next month despite some existing challenges in bilateral ties, a prominent expert on India has said.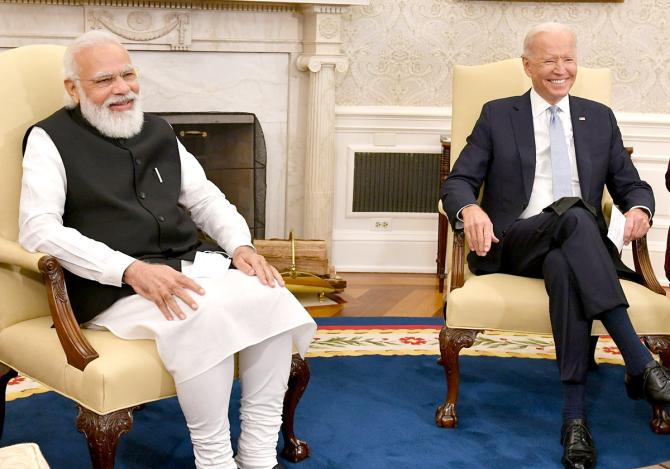 Prime Minister Modi will embark on his first state visit to the United States at the invitation of President Joe Biden and First Lady Jill Biden in June.
The US president and the First Lady will also host Modi at a state dinner on June 22.
"It's terrific to see (the prime minister being invited on an official state visit)," Rick Rossow, senior Adviser and Chair in US-India Policy Studies at the Center for Strategic and International Studies told PTI on Wednesday.
India has been on the hot seat a little bit in Washington, he noted.
"Partially because of its reluctance to take a stronger stance on the Russian invasion of Ukraine, for a lot of people in Washington, that's become a defining moment. But (for) the Biden administration, it hasn't. They have decided to play the long game," he said.
The Biden administration realises that the strategic importance of this relationship is India's deepening commercial bonds with the US, he said.
"The partnership with the US on some of the more dangerous areas amid the rise of China. So, at the top level, this is an indication that despite some challenges and some headwinds we've got on Russia and other things, we're willing to move ahead," Rossow said.
"India is in the middle of G-20, you just had a QUAD summit.... it's also pretty significant that the leaders are able to carve out this kind of time to pull something together when they're already seeing each other, on pull asides and such at so many other international forums," he said.
The Biden administration is trying to take the relationship, which has done really well across different administrations in both governments, forward and look for ways to bring it to a new level, both in terms of commercial relations and security relations, Rossow said.
He said there are two things that need to be repaired.
"One of them is the long wait time for visa interviews in India, which has gotten worse in recent weeks. This is impacting people-to-people ties," he said.
"But the other area, which has been really on the list for quite some time, where we've always had challenges is on the commercial front," he said.
"Seems that every time that one of us is leaning a little bit more pro-trade or investor friendly, the other one's not," he said.
Rossow said the last couple of years India, after many years of protectionism, has shifted to doing domestic support programmes to improve exports, but is also signing trade agreements with selective partners.
The United States announced the Indo-Pacific Economic Framework.
"But right now we don't really know what all that's gonna become. And there's a lot of skepticism about whether that'll match up to the world-leading free trade agreements that are out there," he said.
"We've got a lot of divisive issues that have come up over the years; revocation of India's generalised system preferences benefits; India imposing countervailing duties against the United States after our steel and aluminium tariffs. So, a lot of old damage on trade and commercial issues that I think the two governments should also take time to try to repair," Rossow said.
He said India needs the US in critical ways and the US is fast becoming a major supplier of critical defence technology.
"We're the largest investor in India. We're India's largest goods trading partner and the only major country with which India has a goods trade surplus. On the services side, obviously, India's dynamic IT services market has been largely built around servicing and partnership with the United States," he said.
"So, if you think about the Indian economy and security, the United States is a critical partner for where India is today and where it'll be in the future. A lot of those, of course, the United States would echo as well. This is certainly not a one-sided relationship," he said.
© Copyright 2023 PTI. All rights reserved. Republication or redistribution of PTI content, including by framing or similar means, is expressly prohibited without the prior written consent.