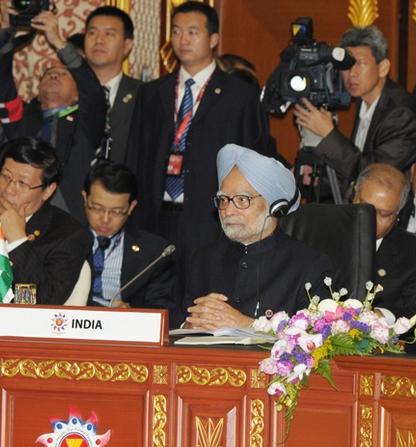 Lending support for India's ambitious Nalanda University project, six countries on Thursday began the process of signing inter-government agreements to pledge their commitment for this academic institution.
Addressing the East Asia Summit in Brunei, where these MoUs are being signed, Prime Minister Manmohan Singh also expressed his gratitude to the countries supporting the project.
"I would like to thank the East Asia Summit participating countries for their support for the establishment of NalandaUniversity as an international institution of excellence.
"I am happy that the process of signing the inter-governmental Memorandum of Understanding on the NalandaUniversity has begun. Academic sessions at the University are set to begin next year. I hope students and faculty from all EAS countries will participate in this exciting venture," he said.
The countries which are signing these MoUs include Australia, Cambodia, Singapore, Brunei, New Zealand and Lao PDR. These agreements are key to India's plans to establish NalandaUniversity as an institution of international repute.
The prime minister had arrived in Brunei on Wednesday to participate in the ASEAN-India Summit and the East Asia Summit, which is a forum for cooperation between various countries of this region with ASEAN and includes Australia, China, India, Japan, Republic of Korea, New Zealand, Russia and the US, in addition to the 10 ASEAN (Association of South East Asian Nations) countries.
The 10 ASEAN nations are Brunei, Combodia, Indonesia, Malaysia, Myanmar, Laos, Philippines, Singapore, Thailand and Vietnam. The University is being built near the ruins of the historic academic place by the same name in Bihar and those involved with this project include Nobel laureate Amartya Sen.
The idea to revive NalandaUniversity was first mooted in 2005 by then President APJ Abdul Kalam. Asked about the project, official sources said that it is making good progress and at least six countries are expected to sign an inter-governmental agreement here tomorrow for this university.
"It is for the first time that such an agreement is being signed here at EAS," they said, while adding that there will be five representatives from the EAS on the Nalanda University governing board. According to sources, China has already committed $1 million for the project, Singapore has pledged $5-6 million, Australia about $1 million Australia and all these funds have been committed on voluntary basis.
Image: Prime Minister Manmohan Singh at the 8th East Asian Summit, at Brunei Darussalam.
Photograph courtesy: Prime Minister Manmohan Singh's website