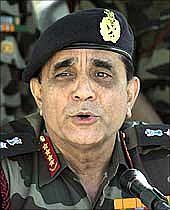 After his doctrine of two-front war with Pakistan and China drew flak from across the border, Army Chief General Deepak Kapoor on Friday said India wanted to foster 'cordial and peaceful relations' with both the nations.
"India has always believed in maintaining peaceful and cordial relations with its neighbouring countries," Kapoor told his troops, senior officers and foreign dignitaries in New Delhi on the occasion of 62nd Army Day.
"With China, we want to continue peace. We want cordial relations and peace with Pakistan too," he said after reviewing a smartly turned out Army Day Parade.
On the insurgency in Jammu and Kashmir and Northeastern states, the army chief said the current situation was very much under control.
"The insurgency situation in Jammu and Kashmir is in full control of the security forces. The peaceful situation in the border state is due to the continuous efforts of the security forces. In the North East too we have ensured peace. We will continue this good work," he said.
Referring to the changes in the geo-political and security situation, Kapoor said this was an era of bilateral and multi-lateral cooperation and added that India had pursued it by holding highly enriching joint training exercises with several countries.
"Such joint exercises provides an opportunity to enhance mutual understanding," he said.
He listed out Armed Forces Tribunal for dispensing justice to personnel, Married Accommodation Project in forward and high altitude areas, hike in allowances and better facilities, as some of the welfare measures launched recently.
Image: Army Chief Deepak Kapoor