West Bengal has a 2,200 km porous border with Bangladesh over 10 districts.
Ishita Ayan Dutt reports from Kolkata.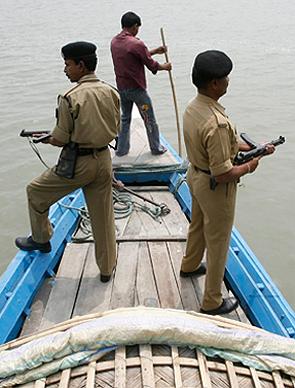 IMAGE: Border Security Force troopers patrol the Brahmaputra near the border with Bangladesh. Photograph: Rupak De Chowdhuri/Reuters
Hours after West Bengal Chief Minister Mamata Banerjee warned the North 24 Parganas administration on infiltration, one of Bangladesh's worst terror attacks occurred, killing 20 foreigners.
'What are you doing? Infiltration is increasing, law and order has touched a low, anti-socials are moving freely. I won't tolerate this. Arrest them. Don't see their political affiliation,' she told the district administration after a review meeting.
West Bengal's 2,200 km porous border with Bangladesh over 10 districts has been a problem that a blast in Bardhaman in 2014 brought to the fore.
Investigations linked the blast to the Jamaat-ul-Mujahideen, Bangladesh, JMB. Last year, the National Investigation Agency filed a chargesheet in the blast case, naming 21 people in a conspiracy hatched by the JMB.
"Stopping infiltration is a priority. A series of meetings have taken place with BSF (Border Security Force) officials on border fencing. The BSF will purchase land and we will help them," a West Bengal official said.
Yet, successive state governments lose interest in curbing infiltration before elections. West Bengal's Muslim population of 29 per cent can swing election results.
Union Minister of State for Home Kiren Rijiju recently informed Parliament that 437,958 heads of cattle were seized between 2013 and 2016.
But it is fake Indian currency notes that make West Bengal a safe transit corridor for terrorists.
Most of the attacks in India have had some tenuous link with Kolkata. Indian Mujahideen chief Yasin Bhatkal, believed to be the mastermind behind the Bengaluru stadium blast in 2010, Pune's German Bakery blast in 2012, and the Hyderabad blast in 2013, spent several years on Zakaria Street in central Kolkata.
The ammonium nitrate for explosives that killed 21 people in Varanasi in 2006 was bought from Kolkata. The attack on the American Centre in 2002 was the only aberration where Kolkata was targeted by terrorists.