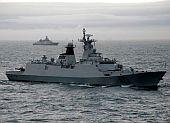 As China unveiled its plans to become a maritime power after commissioning its first aircraft carrier, its strategic analysts say India and China can "rule waves together" by addressing contradictions in their "overlapping" maritime strategies.
"It is natural that China and India, as two regional emerging powers, will possess similar and even overlapping maritime interests," an article from an official think tank in the state-run Global Times said on Wednesday.
Titled 'India, China can rule waves together', the article analysed how the two countries can reconcile competing maritime interests.
"However, does it mean that China and India are destined to be rivals? How should the two countries reconcile competing maritime interests? These questions are very important for both sides.

"As global political forces are undergoing realignment, the future of the Sino-India relationship will affect the entire international pattern," it said.
Outlining India's push into the Asia-Pacific where China has a host of maritime disputes as well as Chinese efforts to gain influence in the Indian Ocean region, considered as "India's pond", the article said together they can shape the security environment.
"China and India are both major powers in the region and their relationship can shape the security environment in the whole Indo-Pacific region. Both sides will continue to pay increasing attention to each other in maritime realm and have more interactions at sea in future," it said.

"There are contradictions in China and India's maritime strategies. However, these can be solved by peaceful communications," it said referring to China's reservations over India's active role in the South China Sea region and India's concerns over China's purported "string pearls" strategy to "encircle India" forging close ties with Sri Lanka and other countries of the region.

"China and India also have many common interests, such as the security of international shipping lanes, humanitarian assistance, disaster relief, marine search and rescue, peacekeeping, and oceanic environmental protection. There is enough space for China and India to develop alongside each other," it said.

Analysts say China, which affected its once-in-a-decade leadership change this month is looking to scale up relations with India in the backdrop big American push into the Asia Pacific region, solidifying ties with several countries including Philippines and Vietnam, while backing their claims over the South China Sea.


US said it plans to deploy 60 per cent of its military assets in the region.
China too is locked up in a big dispute with Japan over the uninhabited islands in the East China Sea, called Senkakus by Tokyo and Diaoyu by Beijing where the navies of the two countries are aggressively patrolling the waters asserting their claims.
Outgoing President Hu Jintao has said China should develop itself into a maritime power securing its interests in the region and beyond and Beijing launched its first aircraft carrier, with few more in pipeline.

Observers say as the US, Japan and Australia woo India into an-anti China alliance, Beijing wants to avert it by scaling up its ties with New Delhi.