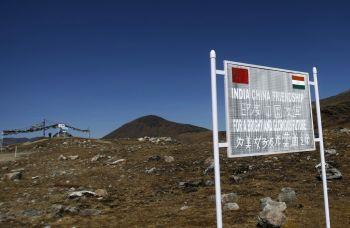 It was a scene of bonhomie as the border personnel of India and China met to mark the Republic Day in Chushul belt along the Line of Actual Control in Ladakh, putting behind the tension over recent incursions by the People's Liberation Army in the area.
Both sides also agreed on different measures to maintain peace, stability and to work for development of the region.
The Chinese delegation was received by the leader of Indian delegation Brigadier Y K Joshi. After the reception, the Indian national flag was hoisted and both the Chinese and Indian delegations saluted the tricolour.
According to a Northern Command spokesperson, in the formal meeting held in atmosphere of mutual trust and camaraderie, greetings were exchanged by both the sides amid agreements to join hands in contributing to peace, stability and development of the region in consonance with border peace and tranquility agreements.
After the meeting, the Chinese delegation was treated to a cultural programme by a civilian troupe. The Chinese delegation was enthralled by the rich cultural heritage of India soaked in spirit of bonhomie and friendship.
The guests were treated to foot-tapping Indian music tunes played by the military band.
As the ceremonies drew to a close, both sides exchanged pleasantries and gifts.
India and China have signed two landmark agreements -- the 'Peace and Tranquility Agreement in 1993' and 'Confidence Building Measures' 1996 to improve bilateral relations between the two countries. Recent Indo-Chinese Joint anti-terrorism exercises have also paved the way for greater interaction between border forces of both the sides.
This year has also gained importance for the Trishul Division, which has been interacting with Chinese as it celebrates its golden jubilee of raising.
The division has been the sentinel of Ladakh since its raising on March 29, 1960 and has had the distinction of being commanded by two chiefs of army staff -- General T N Raina, MVC and General K V Krishna Rao.
The friendly interactions between the two forces have played a significant role in promoting and strengthening bonds of friendship and mutual trust between the two armies, the Northern Command official said adding, through these interaction, the border representatives have been able to understand each other's culture, traditions and customs.
Asked whether the meeting touched the issue of incursions along the LAC, a senior army official in Jammu said, "Nothing has been discussed over the media reports of incursions."
Last year, Chinese troops had entered nearly 1.5 km into the Indian territory on July 31 near Mount Gya, recognised as International border by India and China, and painted boulders and rocks with 'China' and 'Chin9' in red spray paint.
Before this, Chinese helicopters had violated Indian air space on June 21 along the LAC in Chumar region.
Image: A signboard is seen from the Indian side of the Indo-China border at Bumla | Photograph: Adnan Abidi / Reuters