India and Bangladesh are two separate countries bonded by cooperation and understanding, Prime Minister Narendra Modi said in Santiniketan on Friday.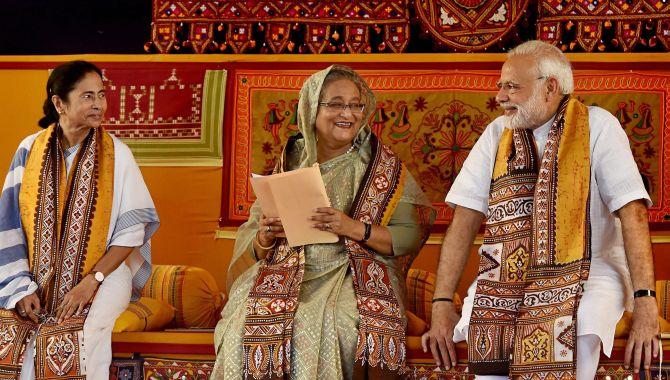 Modi, who was in Santiniketan to attend the 49th convocation ceremony of the Visva Bharati University, shared the dais with Bangladesh Prime Minister Sheikh Hasina, West Bengal Chief Minister Mamata Banerjee and university Vice Chancellor Sabujkoli Sen.
"India and Bangladesh are separate countries bonded by cooperation and understanding. Be it culture or public policy, the people of the two countries get to learn a lot from each other," the prime minister said.
One such example is Bangladesh Bhavan, he asserted.
The PM, who is the 'acharya' or chancellor of the central university, inaugurated Bangladesh Bhavan with Hasina on this occasion.
The Bhavan, a 'symbol of cultural ties between India and Bangladesh' has been constructed by Bangladesh on the varsity campus.
Lauding the contributions of Visva Bharati in nurturing young minds, Modi said he was thrilled to set foot on the land of Tagore.
"When approaching the dais I was thinking that this is the land of Rabindranath Tagore. Here, somewhere, he had penned his words, composed tunes, held discourses with Mahatma Gandhi or mentored one of his students," he stated.
The PM also exhorted the university authorities to develop the rural areas in the state with help from the central government.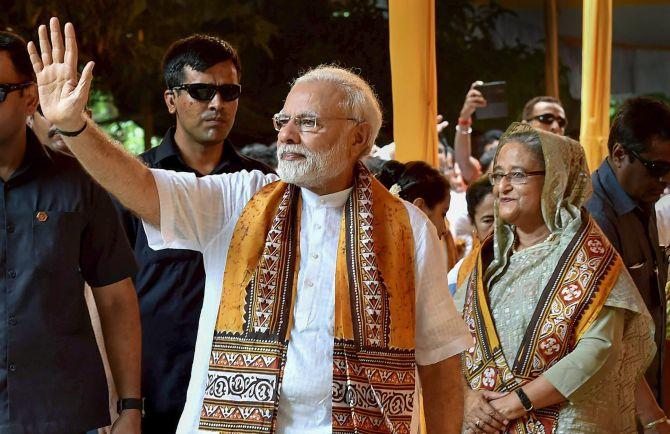 "I am told that you are developing 50 villages. You can take a pledge that by 2021, when Visva Bharati will complete 100 years, to develop 50 more villages with electricity supply, gas connection and online transaction facilities," he said.
On the occasion, the prime minister spoke about the bard and his elder brother Satyendranath Tagore's Gujarat connection.
"Satyendranath Tagore, the first Indian to join the civil service, was posted in Ahmedabad. For six months, Gurudev took tuition from his brother here before leaving for abroad at the age of 17. During his stay in Ahmedabad, he had written a novel and composed poems."
He urged the students to stay true to their roots while pursuing their dreams.
"125 crore people have resolved to create New India by 2022. This dream can be achieved through education and for that institutes such as Viswa Bharati have a vital role to play. The graduates from the university will contribute in India's development, give it a new direction," he said.
Referring to one of Tagore's songs, the PM said one should move ahead in life, no matter what the circumstances.
Education should not be just about textbooks, a student should be exposed to the myriad cultures of the world for his overall development, the PM said.
"If there is nobody to walk with you, walk towards your target alone. If you take one step towards development, the government will move four steps ahead," he told the students.