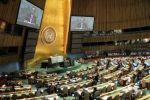 India has called for an honest and effective implementation of international legal frameworks by all countries to combat terrorism and deny safe havens to terrorists anywhere in the world.
Addressing a UN General Assembly session on 'Rule of Law at the National and International levels' on Thursday, Member of Parliament Dharmendra Yadav said India calls for "collective action" in the fight against terrorism, which continues to pose a serious threat to international peace and security.
"We stress for the honest and effective implementation, by states, of international legal framework to combat terrorism including ensuring denial of safe havens to terrorists in any part of the world," Yadav, who delivered his address in Hindi, said referring to UN Secretary General Ban Ki-moon's report on 'Strengthening and coordinating United
Nations rule of law activities'.
The report focusses on achievements and challenges in strengthening the rule of law at the national and international levels through the past year.
Yadav is among a group of visiting Indian Parliamentarians who are participating at various sessions of the 67th session of the General Assembly.
"India believes that the advancement of the rule of law at the national level is essential for the protection of democracy, economic growth, sustainable development, ensuring gender justice, eradication of poverty and hunger and protection of human rights and fundamental freedoms.
"We consider that the law making activity at the national level is exclusively the domain of the national legislature," he added.
Yadav reiterated India's position on the importance of strengthening capacity of states, especially developing and least developed States, to enable them to carry out the rule of law related activities and to fulfil their obligations.
"The rule of law assistance should be in line with the national priorities of the recipient states to ensure proper utilisation and the benefit of assistance," he said.
Yadav further said an urgent reform of the Security Council is essential to ensure make the UN body is "broadly representative, efficient and transparent."
© Copyright 2023 PTI. All rights reserved. Republication or redistribution of PTI content, including by framing or similar means, is expressly prohibited without the prior written consent.