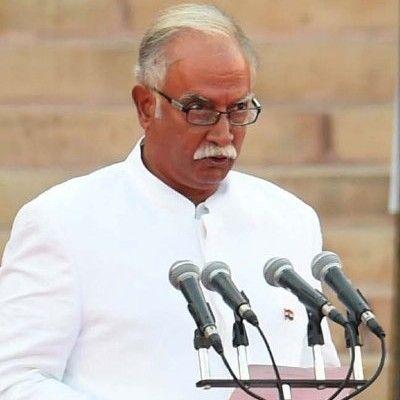 A major controversy erupted on Thursday after reports that three members of a family were offloaded from a Leh-Delhi flight to accommodate Union Minister Kiren Rijiju, Jammu and Kashmir Deputy Chief Minister Nirmal Singh and an aide, forcing the government to apologise.
As the media highlighted the incident that came to light days after a similar case involving Maharashtra Chief Minister Devendra Fadnavis, the Prime Minister's Office sought a report from the Civil Aviation ministry.
While Rijiju apologised for the inconvenience caused the passengers, Nirmal Singh remained unapologetic and instead targeted the pilot and other AI staff members, alleging misbehaviour.
The incident occurred on June 24 when Rijiju, minister of state for Home Affairs, his assistant and Nirmal Singh were to travel from Leh to Delhi. To accommodate them, three members of the family of an Indian Foreign Service officer, including a child, were disallowed from boarding the flight AI-446, according to reports.
This also delayed the flight.
The revelation came days after a similar report which said that an Air India flight to Newark from Mumbai was delayed by nearly an hour on June 29 as an aide of Fadnavis did not have valid United States visa.
"As Civil Aviation minister, I apologise to all those affected (by these incidents)," Ashok Gajapathi Raju told a press conference in New Delhi on Thursday evening, in an attempt to end the controversy.
He said if any rules had been violated, "we will ask why it happened and that it should not happen".
Rijiju also tendered an apology even as he insisted that he was not aware of some others not being allowed to board.
"Air India, being a government PSU, we as ministers, have the moral responsibility if any passenger has undergone any inconvenience. We must say sorry to them on behalf of the
government and ensure that such incidents do not occur in future," he told PTI over phone from Darjeeling.
Nirmal Singh, however, was unapologetic, saying he had "not misused" his status and in turn accused the pilot of misbehaving with him. He termed the allegations against him as "media trial" and said the question about deboarding should be asked to the airlines.
While tendering an apology, the Civil Aviation minister said such "indefensible" incidents should never have happened.
"Whatever has happened should not have happened...I need to get to the truth... as civil aviation minister I apologise (for the inconvenience caused to the passengers)," he said while responding to a volley of questions on the twin incidents involving Rijiju and Fadnavis.
He said his ministry was getting all the facts about the two incidents. "I need to get to the truth, and I will do my duty," he added.
Even while contending that the incident is "too small" for the PMO to step-in, Raju said his Ministry would submit a report to the PMO, which has sought details on "delay in Air
India flights on account of VIP travels in the recent past".
Rijiju said he was not aware if any passenger was disallowed from boarding the flight. "The deboarding of three passengers was never informed to me and this step would have never been appreciated if brought to the notice on the same day," he said.
The minister of State for Home said the original schedule departure time of the flight AI-446 was 1115 hours on June 24 and boarding time was 1045 hours. Boarding card of Nirmal Singh, who was accompanying Rijiju, is a "proof", he said.
He said as per the original programme, he was supposed to take a Border Security Force helicopter from Leh to Jammu and from there to travel by normal flight to reach Delhi.
"Because of the bad weather, the BSF helicopter could not take off from Jammu and Leh administration was asked to book a ticket in last flight from Leh to Delhi. This is normal routine arrangements in bad weather or kind of situations for VIPs protocol," he said.
Rijiju said a complaint has been lodged by the deputy chief minister to the Civil Aviation minister regarding the advancement and "misbehaviour" of the Air India pilot.
The minister said his boarding pass was not retained for evidence because he never knew that it would required for this day. "But the deputy chief minister kept as a record to produce as evidence for the complaint," he said.
Nirmal Singh targeted the pilot and other staff of the Leh-Delhi flight of June 24 involved in the controversial development, alleging rude behaviour and complained to the Civil Aviation minister about it in a letter to him.
"It is a media trial. You are doing injustice to democracy. We are targeted because of being politicians. We have not misused our powers. This is wrong perception which is being spread. I am not going to accept it," Singh told reporters on a sidelines of an event in Udhampur in J&K.
"We have no authority to de-board anybody. We did not do it. Just ask this question to Air India. We did not know about it," he said.
Asked whether he would apologise for VVIP 'racism' and incident, the Deputy Chief Minister said "apology should come from Air India. They have also to apologise to me also for the misbehavior of their pilot with me".
On the issue of delay caused to the flight, he said, "I reached well before time and doors of plane had been shut before that by the pilot. Pilot misbehaved with me. It took off later at the right time and reached Delhi 10 minutes before its scheduled time. It was announced by the pilot."
He said, "It is an established norm of the government to accommodate the ministers flying for immediate meetings." Defending Rijiju, Singh said he was to travel to Delhi due to urgency. "He (Rijiju) was scheduled to fly in a BSF chopper but it could not materialise in view of bad weather," he added.
"We did not know it then that some people have been de-boarded from the plane but when we boarded the plane, passengers told us about this that such an incident has taken place," he said.
Maintaining that "this has been done by Air India as per rules which we were told," Singh said, "He (Rijiju) is a Union minister. He has to attend the assignments next day. I had to
participate in a programme of smart cities chaired by the prime minister in Delhi. I had no alternative. There was no flight after that and Rijiju also had assignment next day and he is a Z+ protectee and it is a rule."
"Such an incident has taken place even at Yemen.... It is a rule what we have been told," he added.
"But media is making a mountain out of mole hill. The passengers were on LTC. We have not forced them to de-board. It is very wrong report. We reached there. Our seats were vacant and we sat there," he said.