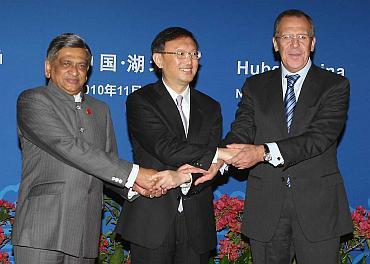 Russia and China -- the two veto-wielding United Nations Security Council members -- on Monday sought "comprehensive" reforms to make the council more democratic, as they welcomed India's entry into the UNSC as a non-permanent member.
A joint statement issued at the end of the meeting of the foreign ministers of Russia, India, China said that Moscow and Beijing looked forward for deepening cooperation with New Delhi within the UNSC
The meeting held in Wuhan, China, was attended by External Affairs Minister S M Krishna, Russian Foreign Minister Sergei Lavrov and his Chinese counterpart Yang Jeichi. "The ministers reiterated the need for a comprehensive reform of the UN to make it more democratic, representative and efficient so that it can deal with today's global challenges more effectively," the statement read. It also commended the indispensable role played by the UN in international affairs.
"The ministers of China and Russia appreciated the role played by India in international affairs and welcomed India's election to the UN security council for the 2011-2012 term, and looked forward to deepening cooperation with India within the council," it said.
Russia has been supporting India's case for a permanent seat in UNSC, whereas China says it understands India's aspiration to play a bigger role in the UNSC. Beijing is yet to pronounce its stand on New Delhi's bid following its endorsement by US President Barack Obama.
The UNSC issue figured prominently in bilateral meeting between Krishna and Yang during which the Indian minister sought China's support for India's candidature.
In a 70-minute meeting with Yang, Krishna sought China's support for India's bid for the UNSC permanent seat, stressing the need for the international community to focus "intensively on this issue".
During the meeting, Yang gave positive indicators over supporting New Delhi's bid for the membership of the powerful world body, foreign secretary Nirupama Rao told mediapersons.
While seeking China's support, India also asked it to be sensitive to its concerns relating to Jammu and Kashmir just as it is alive to Beijing's concerns over Tibet and Taiwan.
China considers Tibet and Taiwan as inalienable part of its territory.
Image: (From left) External Affairs Minister S M Krishna, Chinese Foreign Minister Yang Jeichi and his Russian counterpart Sergei Lavrov after the meet at Wuhan, China | Photograph: Jay Mandal/On Assignment