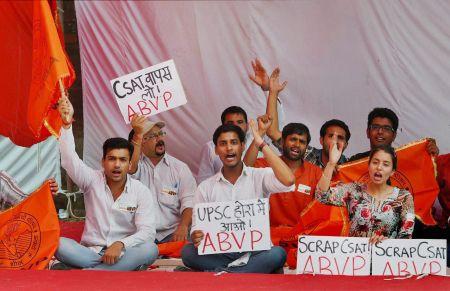 It is the "poor" Hindi translation of English comprehension passages and other questions of Civil Services Aptitude Test that is bothering the aspirants, and not the English part of the paper, Akhil Bhartiya Vidyarthi Parishad on Sunday said.
ABVP, which has been protesting against CSAT for the past fortnight, demanded the recently-introduced test be scrapped. It also demanded that the exam's present format, which makes clearing the English part of the main exams compulsory, be either scrapped or changed.
The reason being that many students taking up this exam are from rural and non-English background which makes it difficult for them to qualify this exam. "A change in the present form of CSAT is what we are asking for," ABVP Delhi unit secretary Saket Bahuguna said.
National Students Union of India, the students' wing of Congress, which too held two major protests on the same issue, also demanded that CSAT be scrapped.
Both ABVP and NSUI have also demanded that the CSAT exam, which is scheduled for August 24 should at the first place be postponed. "At priority level, the exam should be postponed," Bahuguna said.
Clarifying its stand on other related issues, ABVP said question papers should be set originally in Hindi and regional languages also because the translations they provide are "mechanical and impractical". "If that is not possible, we urge that the translations be done carefully and not mechanically," Bahuguna said.
"The problem is the exact 'Google translation' of English language in CSAT questions, because it often changes its meaning entirely. What is needed here is manual translation in contemporary language," said Arushi Mishra, an IAS aspirant.
ABVP also demanded that aspirants who had appeared for the exam in 2011 be given a special chance as they were the first ones to sit for the newly-implemented CSAT.
The country's prestigious civil services examination is conducted by the Union Public Service Commission in three stages -- preliminary (CSAT), main, and interview -- to
choose candidates for Indian Administrative Service, Indian Foreign Service and Indian Police Service among others.