West Bengal Chief Minister Mamata Banerjee on Wednesday met Bollywood actor Amitabh Bachchan at the latter's residence in Mumbai.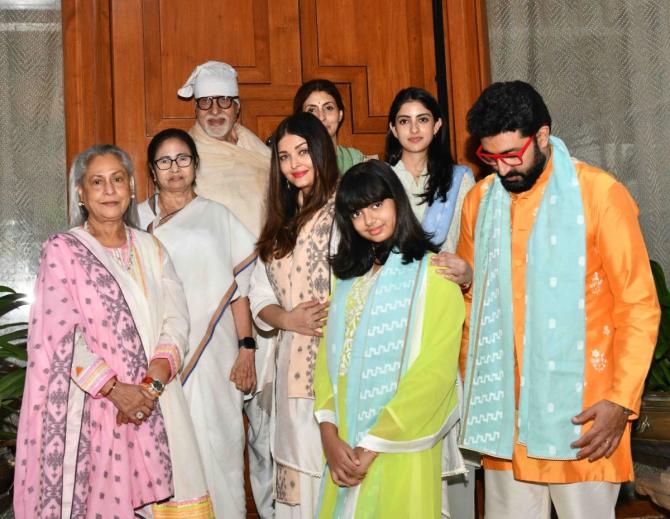 Soon after her arrival at the Mumbai airport for attending the two-day meeting of the Indian National Developmental Inclusive Alliance (INDIA) on August 31 and September 1, Banerjee drove to Bachchan's residence 'Jalsa' in suburban Juhu.
Bachchan had attended the inaugural function of last year's Kolkata International Film Festival, where Banerjee demanded that he be accorded the country's highest civilian honour Bharat Ratna for his contribution to Indian cinema.
Talking to reporters after meeting Bachchan and his family members, Banerjee said she has invited the actor to visit Kolkata.
"Amit ji is our Bharat Ratna. His family has also made a big contribution to the film industry," she said.
"Today I tied rakhi to Amit ji. Today is a big day," Banerjee said.
To a query on who will be INDIA alliance PM candidate, Banerjee said, "India will be our PM face."
Our primary concern is to save the country, she said.
She also greeted ISRO scientists on the occasion of Raksha Bandhan.
'Today, Hon'ble CM Smt @MamataOfficial met Mr. @SrBachchan and Mrs Jaya Bachchan along with their family at their residence in Mumbai.
'She wholeheartedly thanked them for their precious time and wished them luck in all their future endeavours,' Banerjee's All India Trinamool Congress (TMC) posted on microblogging site X.
This was Banerjee's first visit to the Bachchan household.
She was greeted by the entire Bachchan family, including the actor's daughter Shweta and her daughter Navya Naveli Nanda there.
Actors Abhishekh Bachchan and Aishwarya Rai Bachchan along with their daughter Aaradhya were also present.
Concerned about the health of the 80-year-old actor, the West Bengal CM advised him to continue hosting Kaun Banega Crorepati but do fewer films, sources said.
Banerjee tied rakhi on not just the senior actor, but also his son Abhishek and all the female members of the family as well.
"Banerjee said she traditionally ties rakhis on women also," a source said.
During the visit, delicacies like bhel puri and sev puri were served to Banerjee.
While Aishwarya served tea to Banerjee, Shweta served the snacks, the sources said, adding that Banerjee did not eat the homemade delicacies, but asked for a second cup of tea which was promptly served to her by Aishwarya.
Discussion during their 70-minute-long meeting ranged from football to temples in Bengal to long walks.
Abhishek, who is the co-owner of the Indian Super League football team Chennaiyin FC, brought up the discussion on football and mentioned the prominent clubs of Bengal -- Mohun Bagan and East Bengal -- and expressed his love for the game.
Both Aishwarya and Abhishek mentioned their love for walking and were surprised when the CM mentioned the number of steps she walks per day, the sources said.
While Banerjee gifted each member of the family a uttoriyo (traditional scarf) and sarees from Bengal to the women, the Bachchans also gave her a gift.
She also requested Aishwarya to attend the Kolkata International Film Festival.
As she was preparing to leave, Jaya Bachchan told her how she was loved by the entire family.
Banerjee also said that the Bachchans were truly the first family of India.
She fondly referred to Amitabh Bachchan as the 'Bharat Ratna', the highest civilian honour in India.
After meeting the Bachchans, Banerjee decided to meet Uddhav Thackeray at his residence 'Matoshree' in suburban Bandra, the sources said.
The visit was unplanned and she made the decision in the car while on her way back to her hotel.
Thackeray graciously informed her team that both he and his wife were at home and they would be happy to meet her.
Banerjee tied rakhis on all members of his family, including Thackeray's son, Aditya.
In the discussion that lasted an hour, Banerjee told Thackeray that the opposition would win back Maharashtra and also advised him not to give a second chance to traitors.