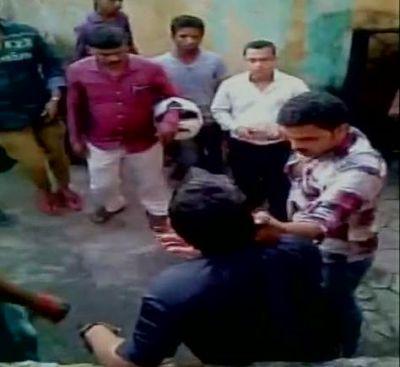 A Muslim man was stripped, tied to an electric pole and beaten at a crowded market place allegedly by rightwing Hindu activists in Mangalore in Karnataka. His crime? He spoke to a woman co-worker in the street who happened to be a Hindu.
On Monday evening, the 29-year-old was talking to a female colleague on the road while he was seated in his car. Soon enough, the alleged Hindu activists arrived and forced the man out of his car and dragged him out. They thrashed him and after stripping him, circulated the images on WhatsApp.
According to the man's police complaint, the woman, who was working with him in a store, had asked him for a loan of Rs 2,000. They were on their way to an ATM so that he could withdraw cash when a gang of men armed with knives and staves accosted them, the man said.
The woman escaped without much harm but she too was slapped for trying to come to her colleague's defence.
It is unclear who the group of men who assaulted him were or what political affiliations they had.
This is not the first time such an incident of 'moral policing' has taken place in Mangalore.
In 2009, the Sri Ram Sena attacked girls in a Mangalore pub. The activists attacked the women, saying they were violating traditional Indian values.
Then, later in 2012, activists belonging to the Hindu Jagarana Vedike, a right-wing group allegedly attacked a birthday party at an unlicensed homestay in Mangalore.
Image: The goons beat up the man and then circulated the images on Whatsapp. Photograph: ANI/Twitter